Check Out 'The Best Of Bogart Collection' On Blu-ray March 25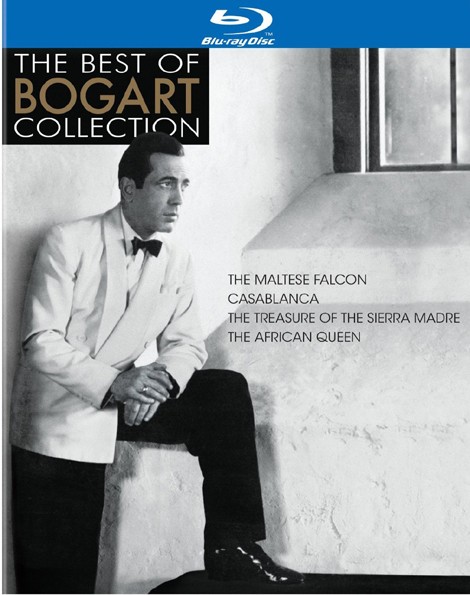 Making the pinnacle of an incredible and enduring career, Bogart's greatest films including his Oscar- winning The African Queen, come together for the first time in this remarkable high-definition collection.  Includes hours of special features and vintage art cards for each film!

Films Included:

The Maltese Falcon

Of all the adaptations of this Dashiell Hammett classic, "The Maltese Falcon" (1941) is often considered the best, and a career-defining role for Humphrey Bogart as detective Sam Spade. The movie was John Huston's directorial debut, and it's amazingly assured and seamless; the performances by Sydney Greenstreet, Mary Astor, Ward Bond and Elisha Cook Jr. are all unforgettable. The Academy thought so too; "The Maltese Falcon" was nominated for three Academy Awards, for Best Picture, Best Supporting Actor and Best Screenplay.

Casablanca

Expatriate Rick Blaine, a cynical nightclub owner in Casablanca, discovers that his ex-lover Ilsa, who abandoned him years before, has arrived in Casablanca with her Resistance leader husband, Victor. With the Germans on Victor's trail, Ilsa has come to the club to beg Rick for the precious letters of transit that have come into his possession. The documents would allow Victor to escape Casablanca and continue the fight against Fascism.

The Treasure of the Sierra Madre

Drifters Fred C Dobbs and Curtin share a cheap flophouse and meet Howard, a seemingly crazy old man who regales them with stories about prospecting for gold. Dobbs and Curtin cobble together what cash they can get a hold of, and along with Howard, plan a prospecting expedition. Dobbs promises that anything they dig up will be split three ways, but Howard doesn't believe them. As the gold is mined the men become increasingly distrustful, and soon turn against one other.

The African Queen

Missionary Rose Sayer rude captain Charlie Allnut to take her upriver in his ragged boat, The African Queen. When they encounter trouble, he wants to cut and run while she's determined to do her part for the growing war effort.
Get The Best of Bogart Collection for the first time, in one great Blu-ray collection, March 25th!