Check Out The Action-Packed 'Mission: Impossible - Ghost Protocol' On DVD & Blu-ray April 17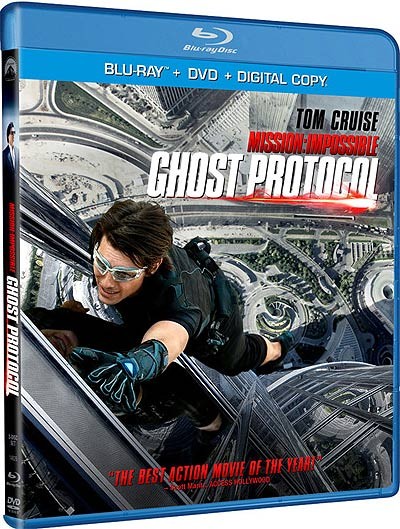 The fourth installment of the massively successful "Mission: Impossible" series debuts on Blu-ray and DVD April 17.

The Kremlin has been bombed, and the blame has fallen on the IMF. As a result, the president initiates Ghost Protocol, and accuses Ethan Hunt (Tom Cruise) and his team of placing the bomb in an attempt to incite a global nuclear war. Now, in order to clear the IMF of terrorism charges, Ethan assembles a new team to uncover the truth by using every high-tech trick in the book.

But this time they're on their own, and should they be caught, the entire world could be plunged into a nightmare from which there is no waking up. Jeremy Renner, Paula Patton, and Simon Pegg co-star.
Both Cruise and Patton did their own stunts. The actress told GQ, ""I was doing physical stunts - feet in the mud, fingernails full of dirt, shooting and fighting for my life."
Cruise took the action to new heights by scaling the Burj Khalifa tower in Dubai for a high-flying sequence in the movie. The stunt was far trickier than the actor made it look, and he was left battered after the first few takes.
 
He told Britain's The Sun, "I remember I came slamming into the building, when I didn't quite make it around because I had to figure out actually how to fly."
The rest of the actors just look out from the window, but even that was too much for co-star Jeremy Renner.
"Once I hung out [the window], 30 seconds of near vomiting almost happened, but then that went away and Tom was laughing, he's hanging upside down," Renner said. "He's all red faced and he's like, 'Look at this view!' I'm like, 'What are you talking about?  I'm gonna vomit on you.'"