Check Out The 100th Episode Of 'Deadliest Catch' April 10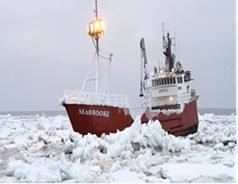 Fishing's fearless are back as "Deadliest Catch" returns celebrating its 100th episode with the season premiere on Tuesday, April 10, at 9 p.m. e/p on Discovery.  

Captains Andy and Johnathan Hillstrand (F/V Time Bandit), Captain Sig Hansen (F/V Northwestern), Captain Keith Colburn (F/V Wizard), Captain "Wild Bill" Wichrowski (F/V Kodiak) and returning newer skippers Captain Scott Campbell Jr. (F/V Seabrooke) and resident badboy, hot shot Captain Elliott Neese (F/V Ramblin' Rose) take to the icy Bering Sea searching for their own version of buried treasure – the highly prized Alaskan king crab.  

This season "Deadliest Catch" crews have their fishing quota slashed by almost half bringing home a cold economic reality -- how will they make enough money to support their families and literally keep their businesses afloat?  With the change in quota, the captains are faced with choices in strategy and tactics – who will go for the more elusive blue crab?  Which boat will risk changing pots and gear in order to reap higher profits?
And later in the season, fishing opilio or "snow crab," the fleet faces some of the harshest weather conditions any of them have ever experienced in more than a quarter century of fishing.