Check Out 'Star Trek: The Next Generation - The Sixth Season' & 'Chain Of Command' On Blu-ray June 24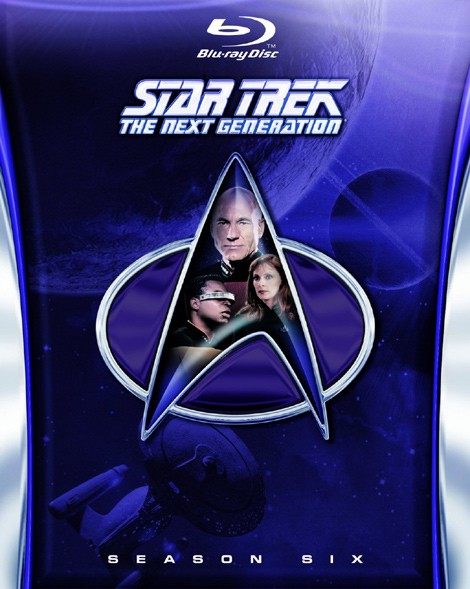 "Star Trek: The Next Generation - The Sixth Season Blu-Ray" and "Star Trek: The Next Generation - Chain Of Command" arrive on Blu-ray on June 24 from CBS Home Entertainment and Paramount Home Media Distribution.

"Star Trek: The Next Generation - The Sixth Season" Blu-ray includes all 26 episodes of the penultimate season, remastered into spectacular high-definition. Fans can dive into the sixth season of the series with a brand new, three-part documentary Beyond the Five Year Mission  The Evolution of Star Trek: The Next Generation featuring fascinating interviews with cast and crew. Plus, fans will enjoy never-before-released commentary on select episodes from Ronald D. Moore, James L. Conway, Jonathan West, and Mike and Denise Okuda, along with a must-see gag reel.

The sixth season collection includes classic episodes such as Brent Spiner's dual performance as Data and his father Dr. Noonien Soong in Birthright, the critically acclaimed two-part episode Chain of Command, Riker (Jonathan Frakes) coping with a bizarre identity crisis that pits him quite literally against himself in Second Chances, and James Doohan reprising his Original Series role as Chief Engineer Montgomery Scott in Relics.

"Star Trek: The Next Generation - Chain Of Command" Blu-ray is a feature-length presentation of the two-part sixth season episode. As a possible Cardassian attack looms, Captain Picard, Dr. Crusher and Worf embark on a secret mission to find and destroy suspected biological weapons, leaving the Enterprise under the leadership of the cold and demanding Captain Edward Jellico (Ronny Cox). Soon after, Picard is captured by the Cardassians and is brutally tortured for information. The crew's dismay quickly turns to anger as Jellico's plans exclude a rescue mission. With his options running out, Picard must fight to save his sanity and ultimately his life.

"Chain of Command" has been lauded for its eerily prescient (Slate) depictions of torture. Along with exclusive audio commentary with Ronny Cox, Jonathan West and Mike and Denise Okuda, the Blu-ray also features the newly-produced documentary "The Privilege of Rank: Making Chain of Command."
Both collections feature a trove of newly produced material that unlock secrets to the Star Trek universe, including a special three-part documentary on the sixth season and a never-before-released gag reel.