Check Out Oscar Winning Films 'Driving Miss Daisy,' 'Grand Hotel' & 'Mrs. Miniver' Now On Blu-ray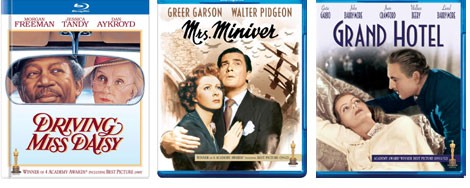 Based on the Pulitzer Prize-winning play by Alfred Uhry, "Driving Miss Daisy" affectionately covers the 25-year relationship between a wealthy, strong-willed Southern matron (Jessica Tandy) and her equally indomitable Black chauffeur, Hoke (Morgan Freeman).

Both employer and employee are outsiders, Hoke because of the color of his skin, Miss Daisy because she is Jewish in a WASP-dominated society. At the same time, Hoke cannot fathom Miss Daisy's cloistered inability to grasp the social changes that are sweeping the South in the 1960s. Nor can Miss Daisy understand why Hoke's "people" are so indignant.

It is only when Hoke is retired and Miss Daisy is confined to a home for the elderly that the two fully realize that they've been friends and kindred spirits all along. The supporting cast includes Esther Rolle as Miss Daisy's housekeeper and Dan Aykroyd as Miss Daisy's son, Boolie (reportedly, playwright Uhry based the character upon himself).
The "Driving Miss Daisy" Blu-ray book and the following two films are now available.
Based on Vicki Baum's novel and produced by Irving Thalberg, "Grand Hotel" is about the lavish Grand Hotel in Berlin, a place where "nothing ever happens." That statement proves to be false, however, as the story follows an intertwining cast of characters over the course of one tumultuous day.
Greta Garbo is Grusinskaya, a ballerina whose jewels are coveted by Baron von Geigern (John Barrymore), a thief who fancies Flaemmchen (Joan Crawford), a stenographer and the mistress of Preysing (Wallace Beery), businessman boss of Kringelein (Lionel Barrymore), a terminally ill bookkeeper who is under the care of alcoholic physician Dr. Otternschlag (Lewis Stone).
"Grand Hotel" won Best Picture at the 1932 Academy Awards.
Winner of six Academy Awards, including Best Picture, "Mrs. Miniver" centers on an idealized England that tends its prize-winning roses while confronting the terror of war. The film struck a patriotic chord with American audiences and became 1942's number-one box-office hit.
Greer Garson gives a formidable Oscar-winning performance in the title role, comforting children in a bomb shelter, capturing an enemy parachutist and delivering an inspirational portrait of stiff-upper-lip British resolve.