Check Out Mythbusters' 'Breaking Bad' Special Aug. 12 On Discovery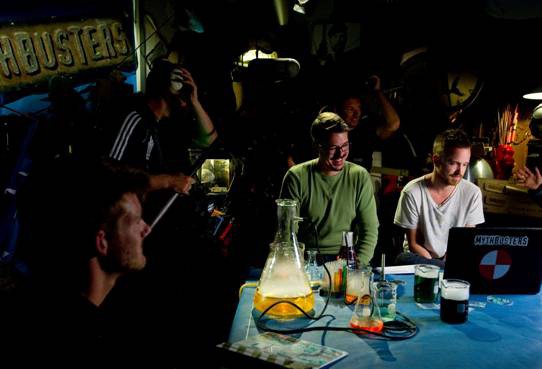 Things get volatile on a special episode of "MythBusters" when the team hook up with "Breaking Bad" creator Vince Gilligan and actor Aaron Paul to check the chemistry behind the hit TV show.

The team recreates two iconic, acidic scenes to see if the science truly holds up, melts down, or blows. The special airs on Monday, August 12, at 10 p.m. ET/PT on Discovery.
"Breaking Bad" centers on Walter White, a chemistry teacher who gets cancer and  begins running a crystal meth lab in order to ensure his family's financial survival.
The series won the top prize at this year's Television Critics Association (TCA) Awards earlier this month, landing the Program of the Year award.
In July, Bryan Cranston and Aaron Paul delighted fans by driving to the season premiere in the show's beloved RV. Stars turned out for a glitzy party in Culver City, Calif,, and the actors made a magnificent entrance by arriving in an RV complete with yellow smoke billowing from the vehicle's vents.
The final episodes of "Breaking Bad" begin airing tonight on AMC.