Check Out Mythbuster's Annual 'Punkin Chunkin' Competition On Discovery Thanksgiving Night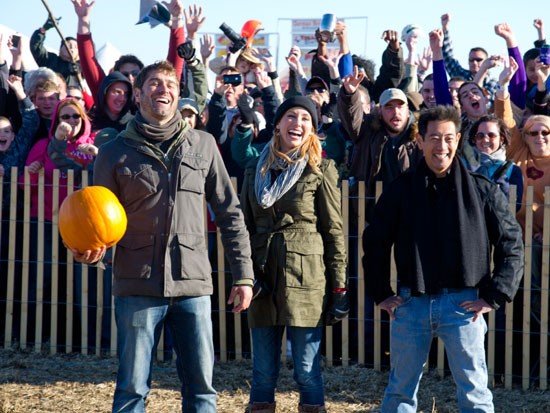 Discovery Channel and SCIENCE have teamed up for the return of PUNKIN CHUNKIN, the official annual extravaganza where teams of backyard "engi-nerds" gather in a Delaware cornfield to see whose homemade contraption can propel a pumpkin the farthest. Viewers looking to get the real scoop on how one can chunk a pumpkin - and just how far said chunked pumpkin can go - should tune in to Discovery Channel and SCIENCE on Thanksgiving night, Thursday, November 24 at 8PM (ET/PT).
 
PUNKIN CHUNKIN takes viewers behind the firing line, getting up close and personal with the explosive contraptions and personalities that make PUNKIN CHUNKIN define "gourd glory." No strangers to explosions of all sorts, Mythbusters' Kari Byron, Grant Imahara, and Tory Belleci join as hosts of PUNKIN CHUNKIN, going inside the madness to uncover the singular subcultures of these passionate participants. Now in its 26th year of competition, PUNKIN CHUNKIN has become a pop culture phenomenon, inspiring countless wacky rituals that make up this autumnal event.
 
NOTE: MODERN FAMILY's Thanksgiving episode feature's a PUNKIN CHUNKIN competition. Tune in to our PUNKIN CHUNKIN for the real thing!