Check Out 'Mirror, Mirror,' Now On Blu-ray & DVD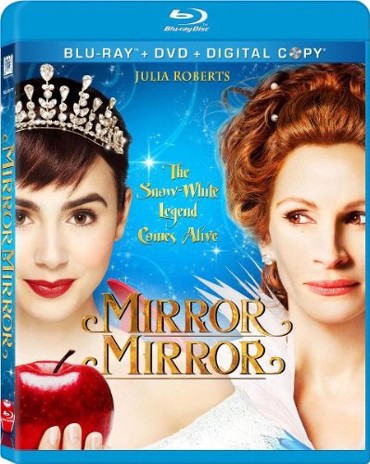 Timeless fairy tale "Snow White and the Seven Dwarfs" gets a dazzling makeover by visionary director Tarsem Singh in "Mirror, Mirror," a fantasy adventure starring Oscar winner Julia Roberts as the Evil Queen and newcomer Lily Collins as the fair-skinned Princess Snow White.
When handsome Prince Alcott (Armie Hammer) falls for angelic Snow White, the jealous Evil Queen seizes control of a magical kingdom and casts the orphaned princess into exile.
Meanwhile, as the diabolical queen schemes to win the heart of handsome Prince Alcott with the help of her bumbling servant Brighton (Nathan Lane), Snow White befriends a gang of pint-sized thieves who will help her to reclaim her rightful place on the throne and win back the man of her dreams.
"Mirror Mirror" Blu-ray Special Features:

-"I Believe in Love" Dance-along

-Mirror Mirror Interactive Storybook

-Deleted Scenes                       
           o   "Alternate Opening"
           o   "So You Are From Valencia?"
           o   "I Need Meat"
           o   "Snow White is Dead"
           o   "Thank You For Coming"

-Digital Copy of the film