Check Out Mick Jagger, Dave Stewart, Joss Stone, A.R. Rahman and Damian Marley's Hot New Supergroup, SuperHeavy (Video)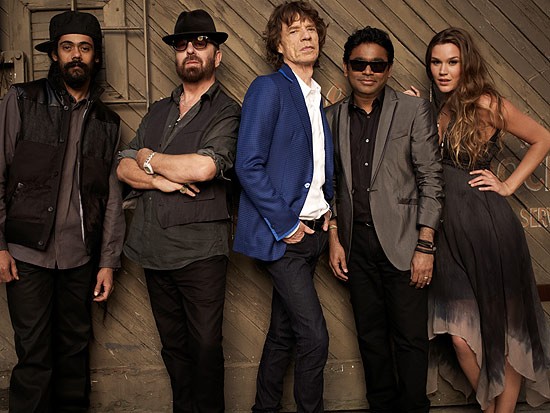 What do you get when legendary Rolling Stones frontman Mick Jagger teams up with Eurythmics founder Dave Stewart, soul singer Joss Stone, Oscar-winning Slumdog Millionaire composer A.R.Rahman and reggae star Damian Marley? The world's latest supergroup - SuperHeavy.

The band's self-titled debut album is in stores September 20, 2011 and tracks include the first single 'Miracle Worker' (check it out below), plus "One Day One Night," "Energy," "Unbelievable," "SuperHeavy," "I Can't Take It No More," "You're Never Gonna Change" and "I Don't Mind."
 
Click here to stream "Miracle Worker"(new window)
With the majority of the album recorded over three weeks in Los Angeles earlier this year, the group also spent time in several foreign locales as it was difficult to nail everyone down in one place for a long period of time.

"It's the most complicated record ever made. Imagine, some of it's recorded in LA, some of it's recorded in the South of France, some of it's recorded off the coast of Cyprus, some of it's recorded in Turkey, some of it's recorded in Miami, some of it's recorded in the Caribbean, and some of it's recorded in Chennai, in India," says Stewart.

The band's diverse lineup shares eleven Grammy Awards between them, and came to be after Jagger and Stewart shared the common interest in bringing musicians from different genres together as one band.

"Dave really wanted to make a record with a different group of musicians, in other words, with different backgrounds of music. Instead of everyone being a rock musician, or basically a blues musician, or some other genre, he wanted to get as many genres together that would fit. I said it sounds like a good idea, I never thought it would actually happen," says Jagger.
Check out SuperHeavy in the Studio:

And where did the name "SuperHeavy" come from? Jagger suggested it after Marley kept throwing the word around, inspired by Muhammad Ali being the super heavy weight champion of the world. The name stuck after all the members thought about it but never really came to a decision over it.

Stewart explains, "We all thought about it for ages and then it sort of stuck."

The supergroup recently unveiled a sneak peek of their first video, "Miracle Worker"; and the band will debut the video internationally on Facebook on Friday, August 12th at 12:00pm (UK time). Fans who RSVP on the band's Facebook page have the opportunity to win SuperHeavy artwork signed by every member of the band! The video will debut on Vevo.

The single is available now on iTunes.
Watch SuperHeavy's 'Miracle Worker':

More SuperHeavy: