Check Out Menudo's 'Lost' & Behind The Scenes Videos

Coming out of Puerto Rico in the 1970s,
Menudo
was the first, and the greatest, of a wave of talented singing and dancing groups that's still relevant 30 years later. The legendary group has sold over 40 million records worldwide, broke numerous attendance records including: 13 consecutive sellout performances at Radio City Music Hall, 200,000 fans at a soccer stadium in Rio de Janeiro, over 500,000 fans at a Mexico City concert and launching the career of international superstar
Ricky Martin
.
Now – two generations later – a new, updated version of Menudo is back, with a contemporary sound and look, and the same universal appeal. The five new members Carlos Olivero (18-years-old, Mexican/Puerto Rican, Chicago, IL); Chris Moy (15-years-old, Puerto Rican/Venezuelan/Chinese, Bronx / Dutchess County, NY); Emmanuel Vélez Pagán (17-years- old, Puerto Rican, Trujillo Alto, PR); José Bordonada Collazo (15-years-old, Puerto Rican, Manati, Puerto Rico) and Monti Montañez (18-years-old, Puerto Rican, Caguas, Puerto Rico / Now Laredo, TX) are young, polished, highly professional singing-and-dancing boy group. They will release a preview of new music on their
More Than Words
EP that was released on December 18 in Target stores around the country with their full length album to follow on September 9, 2008, both via Epic Records.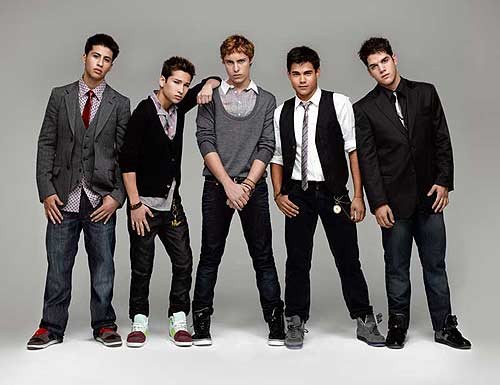 People know and love this new Menudo already. The new group came together on the MTV & MTV Tr3s reality series Making Menudo. Viewers watched the dramatic competition week after week, as fifteen young Latinos, chosen from nationwide search went through a demanding "boy-band boot camp" designed by legendary pop impresario Johnny Wright to train and choose the five best suited for the even harder job of working professionally as a performing team.
The competition is over, and now the group begins. On Tuesday, November 20, 2007, the identities of the final members of the 2008 version of Menudo were unveiled on the climactic episode of
Making Menudo
. Five dedicated, ultra-talented guys between the ages of 15 and 18 were chosen. Carlos, Jose, Monti, Emmanuel and Chris have undergone a rigorous process of musical, choreographic, and professional education that required them to excel individually and to work together as a cohesive unit. Each one can sing lead, and each one specializes in a particular style of music. But they all do all styles, and they harmonize together.
Listen: "Lost" -
Windows
|
Quicktime
|
Flash
Watch: "Lost"- Windows
Hi
|
Lo
; Quicktime:
Hi
|
Lo
More Menudo, past & present:
-
News
-
Ringtones
-
Pictures