Check Out Lifetime's Weekend Movie Extravaganza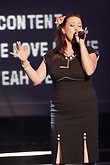 This Thanksgiving weekend, sit back and let the holiday dinner -- and those endless leftovers -- digest over a tasty smorgasbord of entertaining movies on Lifetime Network that showcase the talents of stars from
Amanda Peet
and
Tara Reid
to
Dominique Swaine
.
Airing Saturday, Nov. 25, and Sunday, Nov. 26, the movie extravaganza includes the world premiere of the Lifetime Original Docu-film "Karaoke Superstars," about three young women who try changing their lives through a karaoke contest, along with the LMN basic cable premiere of the rock and roll drama "Girl," starring Swaine and Reid.
Following are the highlights of Lifetime Television's Thanksgiving weekend schedule:
Lifetime Original Docu-Film "Karaoke Superstars" -- Saturday, November 25 at 7PM (ET/PT) --Trying to change the mundane mold of their everyday lives, three twenty-something girls break into the world of karaoke by entering a high-stakes competition. Recording artist
Macy Gray
, musical director Rickey Minor and record producer Bob Ezrin serve as judges of the final karaoke contest. The world premiere docu-film centers around Kristina, Cherene and Kristin as they attempt to reach for the stars.
"Griffin and Phoenix" -- Sunday, November 26 at 7PM (ET/PT) -- After being diagnosed with terminal cancer, Griffin decides that he wants to have fun before he dies. He meets and falls in love with Phoenix. After discovering that she, too, is dying from cancer, the two make the most of the time they have left together. The movie stars Amanda Peet and
Dermot Mulroney
.
"Her Sister's Keeper" -- Sunday, November 26 at 9PM (ET/PT) -- In this U. S. Television premiere, Dahlia Salem stars as Kate, whose life is turned upside down when her younger sister disappears. When Kate investigates, she discovers that a large amount of drug money also mysteriously vanished along with her sister.
Following are highlights of LMN's Thanksgiving weekend schedule:
"Girl" -- Saturday, November 25 at 8PM (ET/PT) -- Andrea Marr is a straight-A high school senior who abandons her sheltered lifestyle for a journey into the local rock and roll scene, where she becomes a groupie to a local singer. In addition to Dominique Swaine and Tara Reid, the movie also stars
Summer Phoenix
.