Check Out Lady Gaga & Tony Bennett's Fantastic 'The Lady Is A Tramp' Duet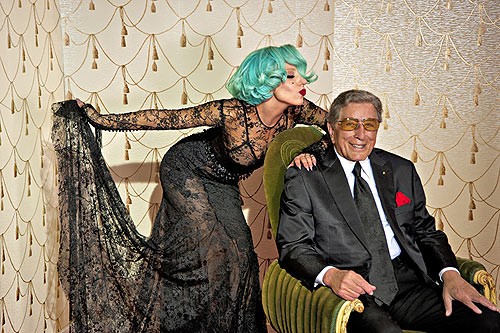 Lady Gaga joins Tony Bennett on the 1937 Richard Rodgers and Lorenz Hart classic "The Lady Is A Tramp." The song is featured on Tony's latest release, "Tony Bennett: Duets II," out today on Columbia Records.

And the crooner has high praises for his partner on the song. "I never met a more talented person in my life, he tells Billboard Magazine. "I think she's going to become as big as Elvis Presley."

"Duets II" follows up "Tony Bennett Duets: An American Classic" - the 2006 Grammy winning best selling CD which became Bennett's best selling recording to date.

The album boasts a cast of A-list singers partnering with Bennett, including Carrie Underwood, John Mayer, Amy Winehouse, Sheryl Crow, Aretha Franklin and Mariah Carey.

"I can't tell you how professional every one of them was, and how they worked and memorized and knew what they were going to do," he tells the magazine.

"And it shows up on the record, you know? You can hear them performing very well for us."
Listen to NPR's streaming party for "Tony Bennett: Duets II" right here!
Official Tracklisting

1. The Lady Is A Tramp with Lady Gaga
2. One For My Baby (And One More For The Road) with John Mayer
3. Body And Soul with Amy Winehouse
4. Don't Get Around Much Anymore with Michael Buble
5. Blue Velvet with k.d. lang
6. How Do You Keep The Music Playing with Aretha Franklin
7. The Girl I Love with Sheryl Crow
8. On The Sunny Side of the Street with Willie Nelson
9. Who Can I Turn To (When Nobody Needs Me) with Queen Latifah
10. Speak Low with Norah Jones
11. This Is All I Ask with Josh Groban
12. Watch What Happens with with Natalie Cole
13. Stranger In Paradise with Andrea Bocelli
14. The Way You Look Tonight with Faith Hill
15. Yesterday I Heard The Rain with Alejandro Sanz
16. It Had To Be You with Carrie Underwood
17. When Do The Bells Ring For Me with with Mariah Carey

More Tony Bennett:

Official Site
Facebook
Twitter
Get "Tony Bennett: Duets II" from iTunes!