Check Out 'Jeff, Who Lives At Home' On DVD & Blu-ray June 19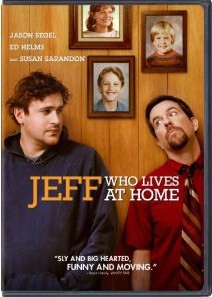 In the comedy "Jeff, Who Lives at Home," directors Jay and Mark Duplass examine fate and family. Jason Segel stars as Jeff, a slacker who still lives with his mother. He spends the vast majority of his time smoking pot and explaining how he's waiting to understand his own fate, using the film "Signs" as the model for how he takes in the world.
Jeff's brother Pat (Ed Helms) is a salesman in a mid-life crisis having purchased a sweet new sports car over the objections of his wife (Judy Greer).
After Jeff answers the phone and a voice demands to speak to "Kevin," the stoner believes this is the sign he's been waiting for. During the course of the day, Jeff and Pat will confront their issues with each other, while their long-suffering mother (Susan Sarandon) may find love for the first time since the death of her husband.