Check Out Hercules & Love Affair's 'Blind'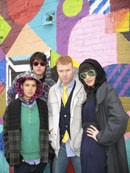 Hercules & Love Affair
are quickly shaping up to be another DFA Records dance floor favorite, drawing critics and fans alike into their disco-fueled arthouse electronica.
Antony of
Antony and the Johnsons
also spotlights throughout the album, including "Blind."
Pitchfork
has already heralded the album as "one of 2008's great albums,"
NME
called it "the party album of the year," and
XLR8R
featured the band on their June/July cover (out now).
Hercules & Love Affair's new self-titled album hit stores on June 24th, and the U.S. version features restored artwork, 2 bonus tracks ("Classique" and "Roar") and the video for the first single, "Blind."
"Blind":
Upcoming shows:
July 23 -Los Angeles, CA @ The Echo
July 25 - San Diego, CA @ Casbah
July 26 - San Francisco CA @ Mezzanine
August 8 - New York NY @ The Fillmore at Irving Plaza
More H&LA:
Starpulse Page
Myspace Page