Check Out 'Gangsta Rap: The Glockumentary,' Now On DVD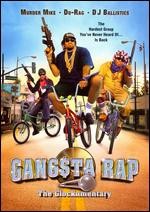 The hardest group you've never heard of is back. In the mid to late eighties, Gangsta Rap ran the west coast underground with such classics as "Beat Yo Mamma With A Hammer" and "In My House Shoes."
In the early nineties Gangsta Rap fell into obscurity after several run ins with the law, shady business management, failed comeback attempts and countless child custody cases.
But now, they're back. They've just inked a deal with gangster rap powerhouse Innersounds Records and are the subject of a documentary film entitled "
Gangsta Rap: The Glockumentary
."
Starring:
Murder Mike, Du-Rag, DJ Ballistics. Also featuring: Malik Brnhardt as "Big Mike" and Clifton Powell as "Tommy Guns"
Win a copy HERE!