Check Out 'Friends With Benefits,' Now On DVD & Blu-ray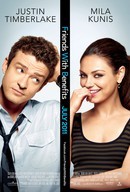 A New York headhunter (Mila Kunis) enters into a no-strings-attached relationship with her latest client (Justin Timberlake) but finds things getting unexpectedly complicated when emotions enter the picture in "Friends With Benefits."
Need some incentive to see the film? Two hot, naked stars!
While promoting the film last summer Mila talked about calling in a butt double for her naked scenes opposite Justin. She explained, "You got side boob out of me. That's a lot. I was compromising - you get side boob or you get butt. You don't get both in one movie."
Justin also bares all in the film, but he doesn't plan on ever repeating the experience. He told Vanity Fair, "It was fun, but I can't say I'm going to be butt-naked in a movie again. I only did it because I'm young now, and everything's where it's supposed to be. I figured this is the time, before gravity gets the best of me."
Patricia Clarkson, Woody Harrelson, Emma Stone, and Andy Samberg co-star.