Check Out 'Four Christmases' On Blu-Ray, DVD, On Demand & More Nov. 24

In
Four Christmases
, a crafty couple run the Christmas Day gauntlet by racing to visit their divorced parents' four separate households in this
Vince Vaughn
/
Reese Witherspoon
comedy that proves the holidays are no time for relaxing.
Brad (Vaughn) and Kate (Witherspoon) have made something of an art form out of avoiding their families during the holidays, but this year their foolproof plan is about go bust -- big time. Stuck at the city airport after all departing flights are canceled, the couple is embarrassed to see their ruse exposed to the world by an overzealous television reporter.
Now, Brad and Kate are left with precious little choice other than to swallow their pride and suffer the rounds. Along the way, they perform in a church nativity play at the behest of Kate's mother's (
Mary Steenburgen
) pushy pastor Phil (
Dwight Yoakam
), contend with Brad's gruff father, Howard (
Robert Duvall
), and bullying brothers, Dallas (
Jon Favreau
) and Denver (
Tim McGraw
) -- a pair of trained UFC fighters -- and pay a visit to Brad's spacy, New Age mother, Paula (
Sissy Spacek
), who recently made waves in the family circle by marrying her son's childhood friend.
Check out the official website
HERE!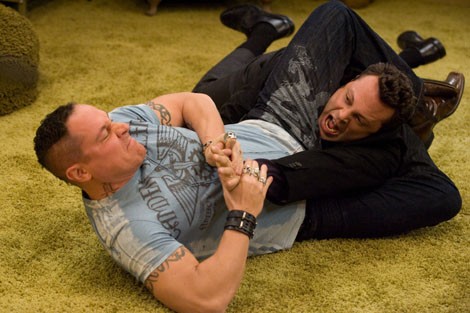 Image © Warner Bros. Entertainment Inc. All Rights Reserved.