Check Out Five Classic Animated Disney Adventures On Blu-ray Aug. 12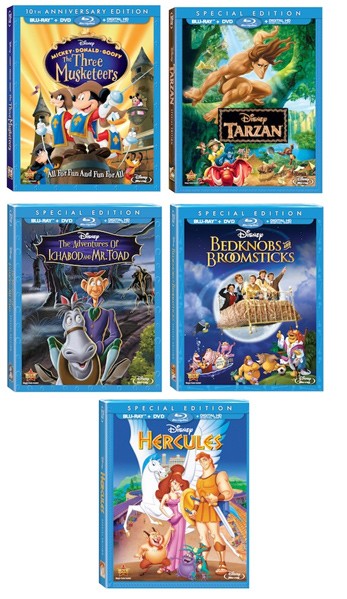 Disney is releasing five animated classic adventures on Blu-ray on Aug. 12 - "Tarzan," "Hercules," "Bedknobs And Broomsticks," "The 10th Anniversary Of Mickey, Donald, Goofy: The Three Musketeers" and "The Adventures Of Ichabod And Mr. Toad."
"Hercules" is full of big-time laughs and tons of adventure. Taken from the gods as a newborn and adopted on Earth, Hercules is just an awkward strong man trying to fit in and impress his father Zeus. When Hercules discovers Hades' plot to take over Mount Olympus, he takes charge with the help of his pals Pegasus and Phil and discovers that real strength comes from the heart.
In "The Three Musketeers," BFFs Mickey, Donald, and Goofy are janitors with big dreams of becoming Musketeers. Their lives are changed when Peg-Leg Pete, captain of the Musketeers, and his villainous lieutenant Clarabelle use them in a plot to rid the kingdom of Princess Minnie - the only mouse standing in Pete's way of the throne.
In "The Adventures of Ichabod and Mr. Toad," The Wind in the Willows and The Legend of Sleepy Hollow join in one cool adventure. J. Thaddeus Toad drives his friends Mole, Rat and Angus MacBadger into a worried frenzy. Then there's Ichabod Crane, who has a crush on the stunning Katrina Van Tassel, despite opposition from town bully Brom Bones, who also likes Katrina. The comic rivalry introduces Ichabod to the legend of the Headless Horseman, resulting in a heart-thumping climax.
"Bedknobs and Broomsticks" has been fully restored and remastered. It centers on young Charlie, Carrie and Paul, who move to a small village during World War II and discover their host, Miss Price (Angela Lansbury), is an apprentice witch. Although her early attempts at magic create hilarious results, she successfully casts a traveling spell on an ordinary bedknob, and they fly to the fantastic, animated Isle of Naboombu to find a powerful spell that will save England.
"Tarzan" is Disney's magnificent animated adaptation of Edgar Rice Burroughs's story of the ape man. It begins deep within the jungle when baby Tarzan is adopted by a family of gorillas. Together with his wisecracking ape buddy Terk and neurotic elephant pal Tantor, Tarzan learns how to "surf" and swing through the trees and survive in the animal kingdom. His "Two Worlds" collide with the arrival of humans, forcing Tarzan to choose between a "civilized" life with the beautiful Jane and the life he knows and loves with his gorilla family.