Check Out 'Family Matters: The Complete Fourth Season,' Now On DVD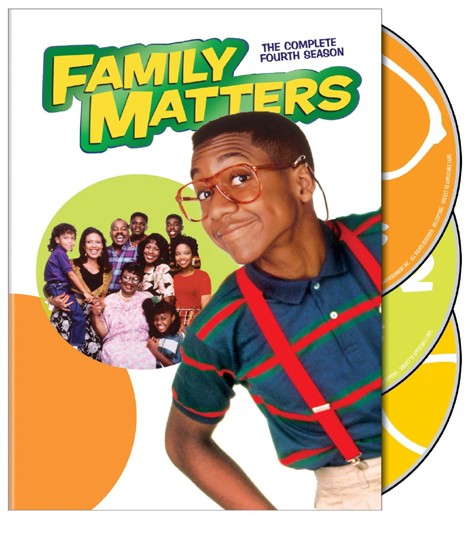 Family Matters: The Complete Fourth Season includes all 24 episodes. Life lessons and laughs go hand in hand with the Winslow family and their ever-present neighbor Steve Urkel.
So whether it's hilarity on Halloween, a comical crisis on Christmas, a veritable "va-va-voom!" on Valentine's Day or a memorable moment on a Monday, every day can be a good day with Family Matters.
This season, Michelle Thomas guest stars as Myra, Steve's girlfriend. Wait, Steve gets a girlfriend? Don't miss Myra wooing Steve with her accordion, or the epic episode where Carl and Steve compete on American Gladiators in hopes of settling a dispute, or the one when Steve literally glues himself to Laura's side. as her dream date is on his way over.
And what will happen when Harriette goes on strike, sick of being the only one to do the housework, and Eddie's math teacher (guest star Debra Jo Rupp - That '70s Show) decides to stop by? Family Matters means family laughs! Join Urkel and the Winslow family in all 24 Season four episodes of Family Matters!