Check Out Dustin Hoffman & Robert Redford In 'All The President's Men,' Now On Blu-ray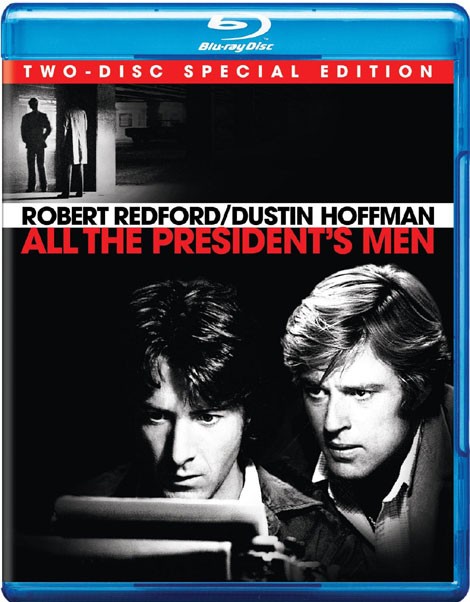 The 1976 film "All The President's Men" was a reconstruction of the discovery of the White House link with the Watergate affair by two young reporters from the Washington Post.
Warner Bros. Home Entertainment commemorates the 40th Anniversary of Watergate this year with the release of "All the President's Men" 2-Disc Special Edition on Blu-ray on November 12.

The film, based on Woodward and Bernstein's best-selling book, won four Academy Awards and stars Robert Redford, Dustin Hoffman and Jason Robards.

"All the President's Men" deals with the Watergate burglary and investigation that ultimately brought down Richard Nixon's administration. This important chapter of modern American history is brought to the screen as a faithful adaptation of Woodward and Bernstein's book chronicling the investigative reporting behind their Pulitzer-prize-winning coverage that changed the face of American politics and redefined the American presidency.
The movie was nominated for a total of eight awards (1976); the four wins, in addition to the acting Award, included Adapted Screenplay (William Goldman), Art Direction (George Jenkins/George Gaines) and Sound (Arthur Piantadosi, Les Fresholtz Dick Alexander and James E. Webb). Alan J. Pakula directed; Walter Coblenz produced the film which also starred Jack Warden, Martin Balsam and Hal Holbrook.

All the President's Men 2-Disc Special Edition on Blu-ray includes the new documentary, All the President's Men Revisited, plus hours of vintage special features.

Special Features:

-All the President's Men Revisited New Documentary

-Telling the Truth About Lies: The Making of All the President's Men

-Woodward and Bernstein: Lighting the Fire

-Out of the Shadows: The Man Who Was Deep Throat

-Commentary by Robert Redford

-Vintage Featurette - Pressure and the Press: The Making of All the President's Men

-Vintage Jason Robards Interview Excerpt from Dinah!, hosted by Dinah Shore

-1976 All The President's Men Trailer