Check Out 'Drive Angry' On 3D Blu-ray, Blu-ray & DVD May 31
"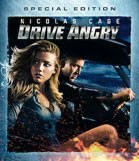 Drive Angry" burns rubber onto DVD and Blu-ray as the high-octane action-adventure arrives May 31 in both 2D and 3D from Summit Entertainment.
Nicolas Cage stars as the undead felon, Milton, who breaks out of Hell to even the score with killers who murdered his daughter and kidnapped her baby. The film also stars Amber Heard, William Fichtner, Billy Burke, David Morse and Tom Atkins.

Directed and co-written by Patrick Lussier ("The Eye") and Todd Farmer ("The Messengers"), the filmmakers responsible for the skin-crawling "My Bloody Valentine" return to their action-thriller roots in Drive Angry with epic car chases, unbelievable fight sequences, a hero that is part villain and a leading lady that is anything but a damsel in distress.

The 3D Blu-ray, Blu-ray and DVD contain bonus content that includes audio commentary with the filmmaker duo, deleted scenes and the "Milton's Mayhem" feature where viewers can track Milton's trail of carnage throughout the film. Exclusive to the Blu-ray release is the special feature "Access: Drive Angry" that allows viewers to activate dynamic "scene-specific" features including interviews with cast and filmmakers.