Check Out Daniel Craig & Harrison Ford In The 'Cowboys & Aliens' Trailer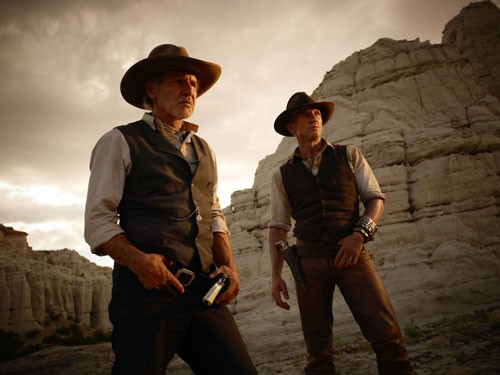 Based on the graphic novel by Scott Mitchell Rosenberg, Cowboys & Aliens starts in 1800s Arizona, where the local cowboys, headed by gunslinger Zeke Jackson (Daniel Craig), and the indigenous Apache tribe have been feuding fiercely for quite a while.

Their skirmish is interrupted, however, by the appearance of a spaceship, commanded by an alien creature that's bent on enslaving the human race. It's time for a six-gun shoot-out between these cattle rustlers and space invaders, and there might even be a temporary peace between the cowboys and Indians as they both take aim at these extraterrestrial uninvited guests.
Jon Favreau directs from a script by "Star Trek" scribes Alex Kurtzman and Roberto Orci, with help from "Lost's" Damon Lindelof.

Olivia Wilde, Harrison Ford, and Sam Rockwell fill out the headlining cast. It hits theaters in summer 2011.