Check Out Blake Lively In Oliver Stone's 'Savages,' On DVD Blu-ray & More Nov. 13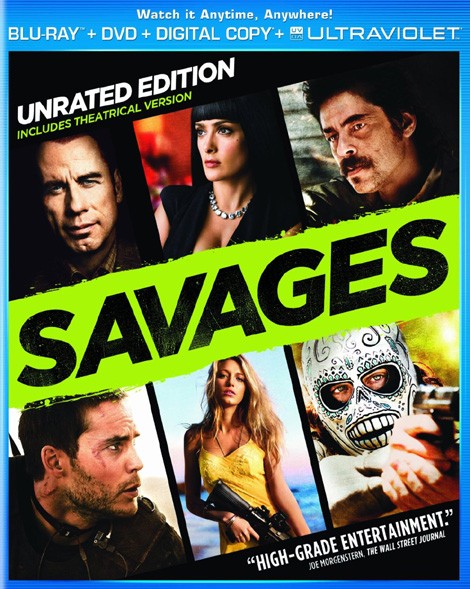 Oscar-winning director Oliver Stone adapts author Don Winslow's best-selling novel into the all-star ensemble crime drama "Savages" about a pair of peaceful, Laguna Beach marijuana dealers who are targeted for extortion by the ruthless Mexican Baja cartel.
Ben (Aaron Johnson) is a devout Buddhist and dedicated philanthropist, and his best friend Chon (Taylor Kitsch) is a former mercenary who trained as a Navy SEAL. They may not seem like major drug dealers, but together they make a comfortable living selling top-quality marijuana. And they share more than just a profitable business; their mutual girlfriend O (Blake Lively) is more than enough woman for the two ambitious young entrepreneurs to handle.
But just as Ben and Chun are feeling like they're on top of the world, their blissful life of lawless hedonism threatens to yield dire repercussions. The Mexican Baja cartel wants a piece of the action, and their cruel leader Elena (Salma Hayek) has dispatched her top hatchet man Lado (Benicio Del Toro) to ensure that she gets it. When the cartel kidnaps Ophelia and threatens to kill her unless Ben and Chun comply, the desperate pot dealers enlist the aid of a shady DEA agent (John Travolta) to try and avert a tragedy.
Emile Hirsch and Uma Thurman also star.