Check Out 'Argo: The Declassified Extended Edition," On Blu-ray Dec. 3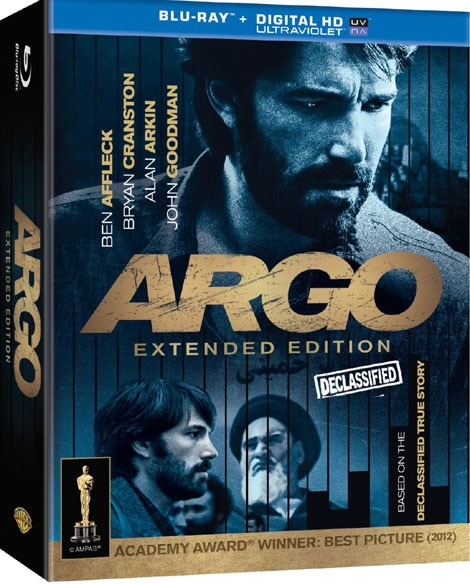 During the Iran hostage crisis, the CIA and Hollywood collaborated in a life-or-death covert operation to rescue six Americans. Their role in these events was little-known until information was declassified many years later.
On November 4, 1979, as the Iranian revolution reaches its boiling point, militants storm the U.S. Embassy in Tehran, taking 52 Americans hostage. In the midst of the chaos, six Americans manage to slip away and find refuge in the home of Canadian Ambassador Ken Taylor.
Knowing it is only a matter of time before the six are discovered and likely killed, the Canadian and American governments ask the CIA to intervene. The CIA turns to their top "exfiltration" specialist, Tony Mendez (Ben Affleck), to come up with a plan to move the six Americans safely out of the country.
What they concoct is a plan so incredible, it could only happen in the movies.
The "Argo Extended Edition" includes three brand new special features: Ben Affleck's Balancing Act and Argo Declassified featurettes; plus a mash-up entitled Argo F*ck! Yourself.
In addition, there are collectible premiums of a one-sheet poster, map of Tehran, reproduction of Tony Mendez's CIA ID card, and a 40-page book with behind-the-scenes photos, production notes, cast bios and more.

In addition to the Oscar presented to producers Grant Heslov, Affleck and George Clooney for Best Picture, "Argo" won the Golden Globe, BAFTA and Critics' Choice Awards for Best Picture. The film earned two additional Oscars – for Best Achievement in Film Editing and for Best Writing, Adapted Screenplay – and was nominated for an additional four (Best Supporting Actor for Alan Arkin; Best Original Score, Best Achievement in Sound Editing; Best Achievement in Sound Mixing)