Check Out 'Apollo Live' On BET & The Tour In A City Near You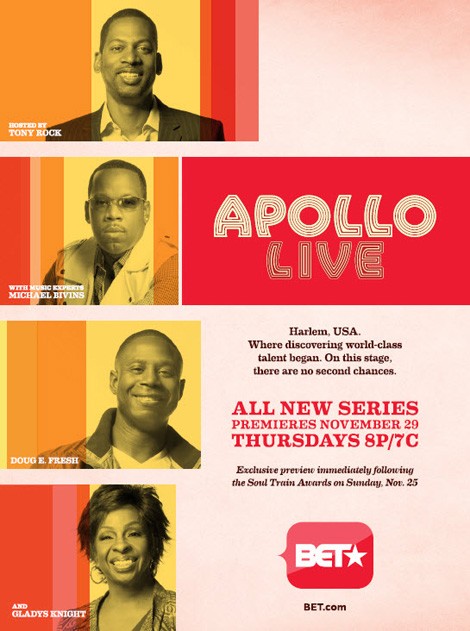 The Apollo Theater is famous for being the birthplace of legends and home of future stars. Ella Fitzgerald, Billie Holiday, Sammy Davis, Jr., Michael Jackson, Bill Cosby, Gladys Knight, Luther Vandross, Lauryn Hill, and many others began their road to stardom on the Apollo's stage.
BET is staging a revival of the popular series "Showtime At The Apollo" in the form of "Apollo Live" and a tour that is coming to a city near you. Executive producers Jamie Foxx, Marcus King, and Don Weiner are putting a fresh spin on the classic "Amateur Night" variety show with "Apollo Live." The program is both a talent showcase and a singing competition. 
Judges include the legendary Gladys Knight, veteran emcee Doug E. Fresh, and New Edition's Michael Bivins.  Hosted by comedian Tony Rock, "Apollo Live" promises to entertain with a bevy of special guest appearances and performances.
The "Apollo Live Lounge" tour will transform local venues to capture the vibe and spirit of the historic Apollo Theater. Local performers will strut their stuff for a chance to win a cash prize. 
Similar to the classic "Amateur Night" at the Apollo Theater variety show, the top performance will be decided by a live audience, whose cheers and jeers will determine who has what it takes to take the top prize.  A trio of local celebrity judges will also be on hand to assist if necessary, as well as a live Emcee to keep the night moving and shaking!

Tour locations and schedule below:

Baltimore, MD:  11/15/12, 6pm – 8pm @ Eden's Lounge
Washington, D.C.:  11/16/12, 6pm – 8pm @ Bar 7
Raleigh, NC:  11/23/12, 9pm – 11pm @ Zydeco Downtown
Charlotte, NC:  11/24/12, time/venue TBD
Atlanta, GA:  11/26/12, time/venue TBD
Memphis, TN:  11/27/12, 5pm – 7pm @ The Ice Bar
Detroit, MI:  11/28/12, time/venue TBD
Chicago, IL:  11/29/12, 9pm – 11pm @ Funky Buddha Lounge
Philadephia, PA:  11/30/12, 9pm - 11pm @ Mezzanine SuperClub
Apollo Live makes its broadcast premiere on November 29 at 8p/7c.