Check Out An Exclusive Clip From 'The Inbetweeners Movie'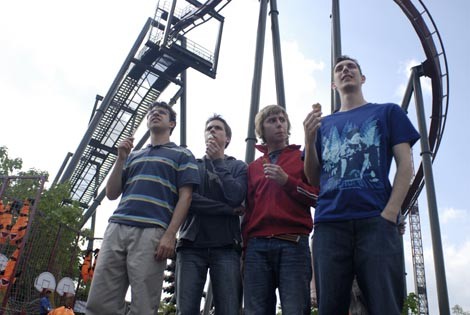 Back in September, BFTV chatted with the stars of The Inbetweeners Movie, the theatrical continuation of the hit UK comedy series. Now the hilarious adventure has arrived on DVD, digital download and on demand from Lionsgate.
Check out this Starpulse-exclusive clip from the DVD special features, where star Joe Thomas talks about one of the stunts he did in the film.
Thomas spent quite a bit of time in the water for purposes of The Inbetweeners Movie. "I was in the sea for so long. I spent days in the sea," he told BFTV during those interviews in September. "There was one particular night shoot where I got in the sea at like 8 PM in the evening and didn't get out of the sea until like 7 AM the next morning."
The Inbetweeners Movie is now available on DVD, digital download, and On Demand. You can pick up your copy now at Amazon.com.
For more from Brittany Frederick, visit my official website and follow me on Twitter (@tvbrittanyf).
(c)2013 Brittany Frederick. Appears at Starpulse with permission. All rights reserved. No reproduction permitted.