Check Out 'All She Can' On DVD Sept. 13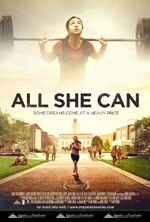 A teenager looking to make something of herself takes a potentially dangerous path in the independent drama "All She Can."
Luz Garcia (Corina Calderon) was born and raised in Benavides, a small Texas town not far from the Mexican border. Benavides is a city in decline, and with few job prospects at home, Luz wants to go to college now that she's soon to graduate from high school.
Her family doesn't have the money for higher education, so Luz concentrates on her skills as a weight lifter, hoping she can hone her skills to a point where she might win a scholarship.
Luz's coach (Julio Cesar Cedillo) thinks she has potential, but insists she needs to build her strength carefully; her boyfriend Raynaldo (Jeremy Ray Valdez), however, urges her to take a more aggressive approach to training, and she begins using steroids in hopes of gaining an edge that will earn her a scholarship to the University of Texas.
Director: Amy Wendel
Cast: Corina Calderon, Jeremy Ray Valdez (la Mission), Joseph Julian Soria, Julia Vera