Check Out All 11 'Capitol Portraits' From 'The Hunger Games: Catching Fire'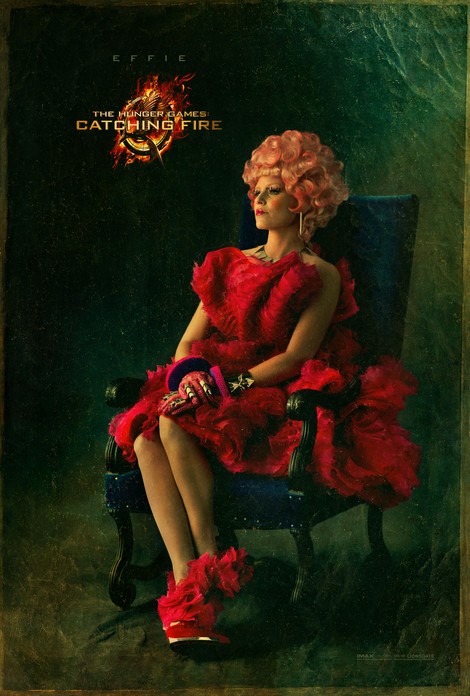 The buzz is rapidly building for the second chapter in Suzanne Collins' Hunger Games trilogy, Catching Fire, with 11 new "Capitol Portraits" of the key players in the story.

The nefarious President Snow (Donald Sutherland), Katniss Everdeen (Jennifer Lawrence), Peeta Mellark (Josh Hutcherson) and Haymitch Abernathy (Woody Harrelson), all return for the second film; along with Caesar Flickerman (Stanley Tucci), Cinna (Lenny Kravitz), Effie Trinket (Elizabeth Banks) and Gale Hawthorne (Liam Hemsworth).

The portraits also focus on three new characters that will be pivotal to the story and its third chapter, "Mockingjay" (which will be split into two films to both keep the story true to the book and cash in on a fourth film).

Johanna Mason (Jena Malone), Beetee (Jeffrey Wright) and Finnick Odair (Sam Claflin round out the set of portraits.

Last week the portraits were revealed one-by-one with clues to each before their big reveal. Also launched was the new Capital Couture website, which promises a look at the fashion, society and arts of the story's Capitol district. We're sure more great stuff will be added to keep the buzz up for the new film, and a Spring Issue of the online magazine is promised to be coming soon.

"The Hunger Games: Catching Fire" begins as Katniss returns home after winning the 74th Annual Hunger Games along with fellow tribute Peeta, but during their "Victor's Tour" things start to go awry and the two are thrust into the arena once again for the "Quarter Quell," which President Snow hopes will keep the 12 districts of Panem from rebelling against the Capitol.

Francis Lawrence directed the film, and Philip Seymour Hoffman, Amanda Plummer and Toby Jones also star. The film hits theaters on November 22.