Check Out 'Alice In Wonderland' On Blu-ray & DVD June 1

Director Tim Burton delivers a visually dazzling take on the classic Lewis Carroll tale in "Alice In Wonderland."

Nineteen-year-old Alice (Mia Wasikowska) is attending party at a lavish country estate when she sees a white rabbit with a pocket watch dart into the bushes. Curious, she follows the rabbit to an enormous tree, and tumbles down a hole that takes her to Underland, a strange world inhabited by anthropomorphic creatures in search of someone to save them from the dreaded Red Queen (Helena Bonham Carter), who has assumed control of the kingdom by decapitating anyone who dares disagree with her.

According to a scroll detailing a historical timeline of Underland -- including events that have not yet taken place -- it is Alice who will set the kingdom free by defeating the Jabberwocky, a powerful dragon-like creature under the control of the Red Queen. But is this Alice the same Alice who appears in the scroll?

While some of the creatures of Underland have their doubts, the Mad Hatter (Johnny Depp) and his friends are certain she's the same girl who previously visited them years ago. When the Red Queen kidnaps the Mad Hatter, Alice attempts to free her friend and locate the one weapon with the power to slay the Jabberwocky, thereby restoring the White Queen (Anne Hathaway) to the throne, and bringing peace back to Underland.
Check out more photos from "Alice in Wonderland" here!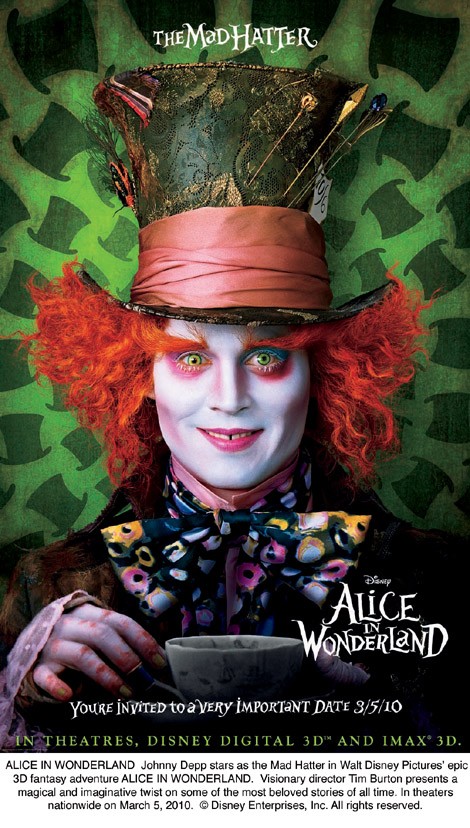 The "Alice In Wonderland" Blu-ray DiscTM Combo Pack provides audiences with the chance to experience a magical and imaginative twist on some of the most beloved stories of all time in pristine 1080p picture and Dolby Digital 5.1 HD surround sound quality and has been especially packaged with family and fans in mind – with lots of exciting bonus features and an extra DVD and Digital Copy of the movie.

The Blu-ray Disc versions of the film include nine bonus features that take viewers deeper into the famous "Rabbit Hole" - exploring more of the world of Wonderland, its iconic characters and the making of the film. Features include the making of the Futterwacken Dance, a look inside the world of the Mad Hatter and Johnny Depp's transformation, Tim Burton's vision for the movie and its characters, the visual effects of growing and shrinking of Alice, costume designs, music, stunts and more.