Check Out '300: The Complete Experience' On DVD July 21

300
is
Sin City
author Frank Miller's sweeping take on the historic Battle of Thermopylae.
Gerard Butler
stars as Spartan King Leonidas. When a Persian envoy arrives in Sparta offering King Leonidas power over all of Greece if he will only bow to the will of the all powerful Xerxes (
Rodrigo Santoro
), the strong-willed leader assembles a small army comprised of his empire's best fighters and marches off to battle. Though they have virtually no hope of defeating Xerxes' intimidating battalion, Leonidas' men soldier on, intent on letting it be known they will bow to no man but their king.
In "The Complete 300: A Comprehensive Immersion," a new interactive picture-in-picture experience provides 3 unique perspectives to explore while you watch the film:
CREATING A LEGEND
: Frank Miller and Zack Snyder Interpret a Classic Tale - Holding true to Frank Miller's love of history and the importance of bringing a pure adaptation to screen in this tale-based account.
BRINGING THE LEGEND TO LIFE
: Building a World From a Comic - Blending the most talented and creative minds together to bring Frank Miller's art to life in cinematic form.

THE HISTORY BEHIND THE MYTH
: The Real Story of The Hot Gates - A rich and historical perspective on the Spartans and this legendary landmark.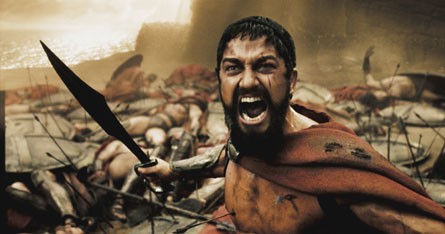 Image © 2007 Warner Bros. Entertainment Inc. All rights reserved
Check out the official website
HERE!