Check Out '30 Rock' Season 3 On DVD Sept. 22

On the third season of "
30 Rock
," Liz Lemon tries to avoid jury duty by dressing as Princess Leia, Jenna stars in a biopic about
Janis Joplin
, and
Steve Martin
plays a fabulously wealthy agoraphobe. Liz increasingly yearns for a normal life while she navigates two doomed relationships, one with a little person, whom she initially mistakes for a child, and the other with a neighbor, who doesn't realize people have allowed him to skate through life because of his impossibly good looks.
"30 Rock" stars
Tina Fey
as Liz Lemon, show runner of the fictional variety series "TGS with Tracy Jordan;"
Alec Baldwin
as network executive Jack Donaghy; and
Tracy Morgan
as the unpredictable star of Lemon's hit variety show. Lemon constantly has her hands full juggling corporate interference from Donaghy and off-the-handle star antics from Jordan, all while attempting to salvage her own personal life.
Also rounding out the cast are
Jane Krakowski
as "TGS" co-star Jenna Maroney;
Scott Adsit
as the variety show's producer Pete Hornberger;
Jack McBrayer
as the over-eager and effortlessly endearing NBC page;
Judah Friedlander
as sardonic slacker and staff writer Frank;
Katrina Bowden
as Lemon's young, flighty assistant Cerie; and
Keith Powell
as sophisticated, sarcastic, Harvard-alum writer Toofer.
Season 3 features memorable appearances by
Megan Mullally
,
Jennifer Aniston
,
Oprah Winfrey
, Steve Martin,
Salma Hayek
,
Jon Hamm
,
Clay Aiken
,
Mary J. Blige
,
Sheryl Crow
,
Elvis Costello
,
Adam Levine
,
Steve Buscemi
,
Elaine Stritch
and
Alan Alda
.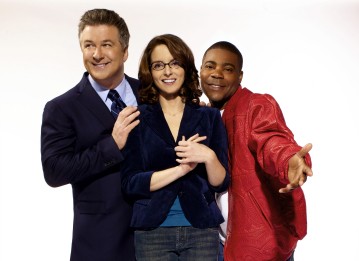 Image © NBC Universal, Inc.
BONUS FEATURES:
-Deleted Scenes
-Commentary: Features audio commentary by Tina Fey, Jon Hamm, Alan Alda, Jack McBrayer, Jane Krakowski and more.
-Behind-The-Scenes With The Muppets
-1-900-OKFACE
-Season Finale Table Read
-Making Of: "He Needs A Kidney"
-Photo Gallery