Cheap Trick Survives Stage Collapse In Canada (See Video)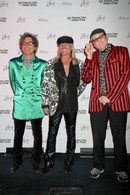 Veteran rockers Cheap Trick narrowly escaped serious injury after the main stage at a Canadian music festival collapsed during the band's set.
 
The group was performing at the Bluesfest in Ottawa, Ontario on Sunday night when the event was rocked by a severe storm. The band members left the stage 20 minutes into the performance due to the adverse weather conditions, and just moments later the massive main stage canopy was completely blown over.

The musicians and crew escaped without injury and a representative for the band later posted a video and pictures of the incident on the group's Facebook page, with a note revealing they all feel lucky to be alive.

The message reads, "Everyone is okay and we are so lucky to be alive and hope that all the fans are okay too... The stage blew down and collapsed. Everyone is shaken up but band and crew are all fine. Cheap Trick hopes that everyone who attended the show is also ok."

Singer Robin Zander adds, "Fortunately the band and crew are all lucky to be alive and we'll see you down the road."

The rest of the closing night performances at Bluesfest, including sets from Joe Satriani and Death Cab For Cutie, were cancelled, and officials confirmed no serious injuries were reported.

A statement from organizers reads, "Due to extreme weather conditions, we have regrettably had to shut down all stages for the night... There are no serious injuries on site."