Chaz Bono Demands An Apology Over 2015 Death Prediction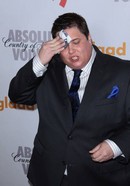 Cher's transgender son Chaz Bono has blasted a report predicting he'll die by 2015 and is demanding an apology from the publication's bosses.

The former Dancing With The Stars contestant was riled by a report in the National Enquirer earlier this month headlined, "Chaz Bono - ONLY 4 YEARS TO LIVE."

An expert was quoted in the article claiming Bono's weight, along with the variety of medications associated with his gender reassignment, could increase the likelihood of an early death.

However, Bono has slammed the report, and his lawyers have issued a letter to bosses at the publication demanding a retraction and apology, branding the story "blatantly false and defamatory."

The letter, obtained by TMZ.com, reads, "The salacious and inflammatory headline and article were crafted for the malicious purpose of discriminating against our client's gender and sexual orientation."

Bono's lawyer has threatened to sue if editors fail to retract the allegations.