Chatting Fashion, Housewives & Class With Countess LuAnn De Lesseps (Video)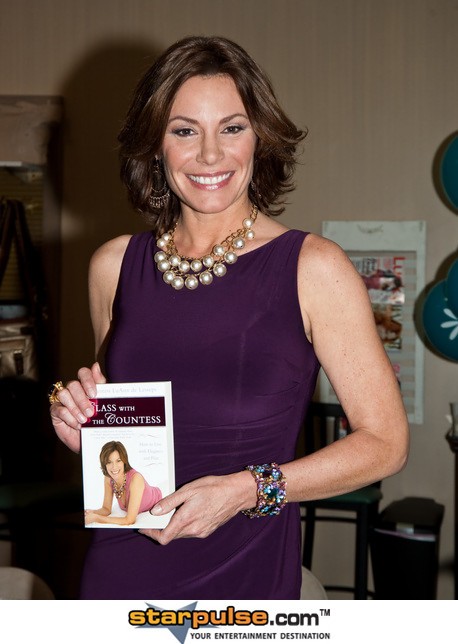 From her best selling book "Class with the Countess" to  her iPhone app and Ultra Records deal, Countess LuAnn de Lesseps of "The Real Housewives of New York City" is truly a reality TV success story due to her style, elegance and flair. Recently, LuAnn brought this 'countess' chic to Chicago's Magnificent Mile Shopping Festival presented by MasterCard for a book signing at Water Tower Place's In Fashion Lounge. Starpulse scored an exclusive chat so read on, because class is in now officially in session!
You're here in Chicago for Water Tower Place's In Fashion Lounge. What is your #1 rule when it comes to style?
You can't wear big earrings and a big necklace. It's one or the other. I think it's just too much. Coco Chanel said take one piece off before you leave the door and that is a good rule.
Have you done anything fashionable in Chicago yet?
I think Chicago is a pretty sophisticated city just like New York. I went to David Burke's Primehouse for steak and Morton's for steak again. I am a meat and potatoes girl which a lot of people don't know. I went shopping on Michigan Avenue and also went to Garrett Popcorn, which was great.
You recently launched your own iPhone app where you have fun features including photo galleries and etiquette & manner polls. Which housewife do you think needs to download your app first?
(Laughs) I would never do that! This is how I keep my peace. If I started picking out the housewives, that's how I get into trouble. I made the app for my fans. They can have a conversation with me and interact, ask me questions. This was the reason why my book came about. Fans were writing to me and asking all kinds of etiquette questions. This is just another way to keep in touch with me. It's very interactive. There are quizzes, games, polls, and you can even take a picture with me. It's just a fun idea that I had and I think people are loving it.
Is there a certain rule or tip from your book "Class with the Countess" that use the most in one day?
Confidence is key and also making people feel comfortable. I have some great one liners in the book. There are just so many. This is a great tool for me. It's the story of my life. I grew up very humbly in Connecticut with six brothers and sisters. I started then learning how to get what I wanted from them. It's all about knowing about how to ask for it and being gracious, giving compliments and being charming. So "Class with the Countess" talks about how to live with elegance and flair, but it's really the story of how I learned how to be elegant.
Finally, tell Starpulse more about your new single Chic C'est La Vie.
Yes, I love that song! Talking about confidence: beauty, class, and elegance lie within the soul. Money, power, and romance are waiting for us all. Confident and cool, passion is the key. Live the life you want to live. There is no sympathy. Those are all the lyrics from the music so I try to just have fun with it.
Check out her new dance single Chic C'est La Vie below!