'Chase' 1.11 'Betrayal' Review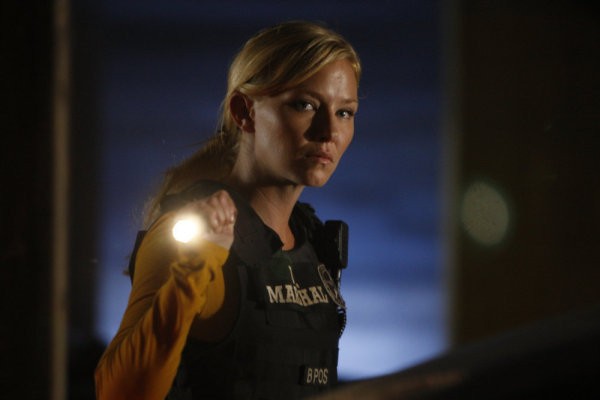 It's been an up and down week for NBC's Chase. On one hand, the show was able to help capture a real-life fugitive in Kentucky. On the other, its episode order was trimmed from twenty-two down to eighteen. It's a shame, because this may be the show's best episode since "Paranoia."
This episode sees Annie and her team pursuing Chris Novack (Hardwick), who has an axe to grind after his best friend and girlfriend - you guessed it from the title - betray him by setting him up so they can run off together. (I had to laugh at my satellite guide's description, which said Chris "takes the city of Houston hostage." Unless you're putting a dome on it, I don't think you can take an entire city hostage.) It's not a novel plot, but the show's approach to it is fresh. Chase is at its best when there's actual chasing happening, and less talking about it, and we're halfway into the hour before the show breaks from a series of well-executed action scenes to start talking about the where and why. Even then, it raises the stakes by putting Jimmy's oft-referenced, never-before-seen girlfriend Natalie (Jericho's Siena Goines) in play.
You'd think that would give Cole Hauser a bigger piece of the action, but it's Jesse Metcalfe who gets the opportunity to share Kelli Giddish's stage, and he acquits himself admirably. This is the first time all season that I've stopped thinking of him as "the guy from Desperate Housewives." The fight sequence between Giddish, Hardwick and Metcalfe in the the hospital morgue may be one of the show's best so far. I wish, however, that Hauser would have gotten more to do, as it seems a wasted opportunity for Jimmy, unless you count that he seems to be back on with his girlfriend.
Chase still plays all too familiar in some respects; you know after the courthouse deputy tells Annie how much he wants to be a Marshal that he's going to end up dead, and likewise, once Chris gives his best friend the line about how he's like a brother, you know he's not long for the world either. It also starts to strain credibility as Chris slips away repeatedly despite a huge police presence at various scenes. Still, I have to give the show a great amount of credit for breaking its formula; the change is a welcome one, and one that the show would do well to repeat.
Need to catch up with Chase? Full show coverage is available in the Chase category at my blog, DigitalAirwaves.net.