Chart Watch: Miley Cyrus Is Unstoppable At No. 1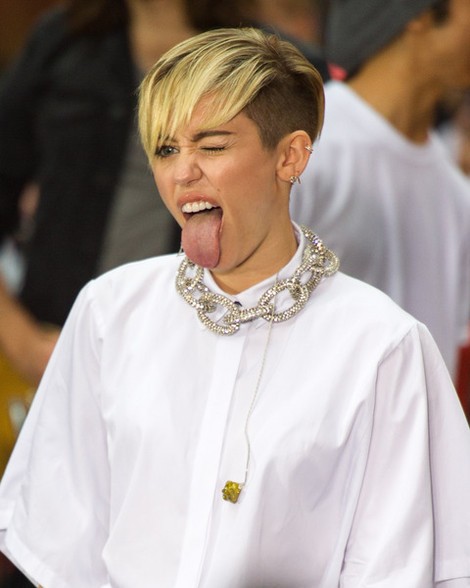 Miley Cyrus's rebelliousness seems to have paid her dividends (sings "…we can't stop and we won't stop…") as Bangerz debuts at no. 1 with an impressive 270,000 copies.  Bangerz definitely puts that album Can't Be Tamed to shame as far as debut sales… it only moved 102,000 copies and has failed to be certified gold.  No wonder Miley decided she better 'twerk' her way to the top. Just sayin'!
Panic! At The Disco had a decent week bowing at no. 2 with Too Weird to Live, Too Rare to Die, which didn't even come close to giving the teddy bear loving chanteuse a challenge (84,000 copies sold).  Pusha T was only a couple of thousand off from PATD, as My Name Is My Name bows at no. 4 with 75,000 copies.  Honestly, which such a tame promotional campaign surrounding Pusha's album, My Name Is My Name truly impresses with those numbers.  Also reaching the top of the charts:  The Quarterback EP (Glee) at no. 7 with 47,000; Korn's The Paradigm Shift at no. 8 with 46,000; Cassadee Pope's Frame by Frame at no. 9 with 43,000 copies; Mayday Parade's Monsters in the Closet, at no. 10 with 30,000 copies.
Who remained in the new top ten? That would be Drake (no. 3), Justin Timberlake (no. 5 with huge losses according to Billboard), and Lorde (no. 6).  Speaking of Lorde, "Royals" spends a third week at no. 1 on the Billboard Hot 100 Chart.
Who's Got Next?
October 15th delivered several new albums, though none of them seem to have the punch that the past three weeks have delivered from Drake, Justin Timberlake, or Miley Cyrus.  Among new releases are Paul McCartney's New, Pearl Jam's Lightening Bolt, Willie Nelson's To All The Girls…, The Avett Brothers' Magpie and the Dandelion, The Head & The Heart's Let's Be Still, Mary J. Blige's A Mary Christmas, Scotty McCreery's See You Tonight, Glenn Lewis's sophomore album Moment of Truth and Gavin DeGraw's Make A Move.  Take your pick who might land at no. 1.