Charlize Theron To Be Honored At Palm Springs Film Festival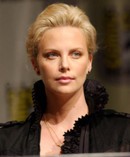 Charlize Theron is to be honored for her independent movie work at the upcoming Palm Springs Film Festival in California.

The Oscar-winning actress will receive the Variety Indie Impact Award at a star-studded gala event in January in recognition of her longtime support of independent film.

Theron, who has appeared in low-budget pictures such as North Country, In the Valley of Elah and The Burning Plain, follows in the footsteps of previous honorees Philip Seymour Hoffman and Mark Wahlberg.

She will be presented with the award on January 8th.