Charlize Theron: Black & White And Red All Over While Promoting Her New Film, 'Young Adult'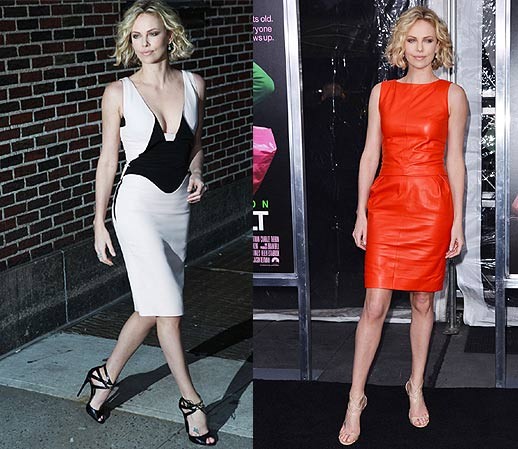 Charlize Theron looked stunning Thusrday night in a black-and-white Antonio Berardi dress and black Tom Ford heels at the Ed Sullivan Theater in New York City for an appearance on the Late Show With David Letterman. The South African native was making the rounds promoting her new film, Young Adult, about a divorced writer who returns to her hometown and decides to try and seduce her high school sweetheart into leaving his wife and newborn baby (see our review here).

After Letterman it was on to the premiere of the film for Charlize, for which she changed into a more conservative, yet sizzling red Christian Dior dress.

Charlize recently revealed to Collider.com that she hates rehearsing scenes and that a "lot of alcohol" was needed to get through readings with her co-star, Patton Oswalt.

"Yeah I don't like rehearsal," she says, "and Jason [director Jason Reitman] doesn't like rehearsal either. I hate table reads. I hate anything where you have to say the words out loud."

Which dress does Charlize look better in? Leave us a comment below!