Charlie Sheen To Undergo Rehab At Home?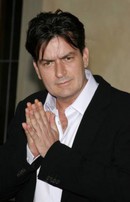 Charlie Sheen is receiving a personalized rehab program at his house rather than at a treatment center, according to reports.

The Two And A Half Men star was reported to have checked into an undisclosed facility on Saturday, just days after he was admitted to Los Angeles' Cedars-Sinai Hospital to be treated for a hiatal hernia.
But now reports suggest Sheen is in fact staying at home while professionals help him beat his demons, while his ex-wife Denise Richards has been photographed visiting the actor's house on several occasions since Saturday.

The star's manager, Mark Burg, has revealed Sheen is getting a personalized program developed to help him, telling People.com, "Charlie has put together a team that he trusts to help get him sober once and for all."

Meanwhile his representative, Stan Rosenfield, has refused to release any more details on Sheen's treatment, telling E! News, "In compliance with the national health privacy laws (HIPPA), no further information relating to Charlie Sheen's health or his rehab experience will be released without his written permission."

"I can say that all of us who know Charlie care about him very much. We will support him in any we can in this journey, beginning by respecting his privacy."