Charlie Sheen To Star In TV Adaptation Of 'Anger Management'?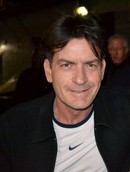 Charlie Sheen's TV comeback will be based on Jack Nicholson and Adam Sandler comedy Anger Management, according to a report.

Sheen was fired from hit show Two And A Half Men after publicly falling out with producers earlier this year - and now he's set to take Nicholson's womanizing role as an anger specialist to the small screen.

TMZ.com reports this is the Joe Roth project Sheen alluded to during a chat with photographers on Tuesday. Roth owns the screenplay to the 2003 movie.

The website reports Sheen's character becomes a counselor to defendants in the criminal justice system with anger management problems.

Roth worked with the actor on a number of movies, including Young Guns and The Three Musketeers.