Charlie Sheen Takes A Dig At Axl Rose During Pal Slash's Hollywood Walk Of Fame Induction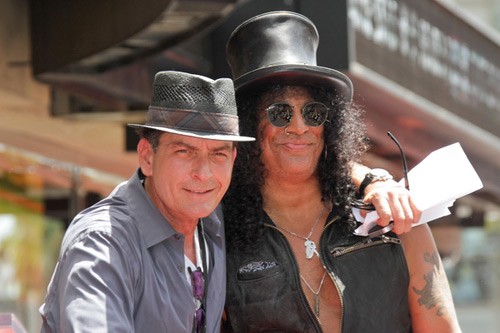 Guitar hero Slash was honored with a star on the Hollywood Walk of Fame on Tuesday, receiving the celebrity landmark's 2,473rd star in a ceremony hosted by some of his pals, including actor Charlie Sheen and movie producer Robert Evans.

Slash's plaque, located fittingly in front of the Hard Rock Cafe on Hollywood Boulevard, is the first for a member of Guns N' Roses, and Sheen was quick to point that out during a speech he gave to honor his friend.

"It's quite fitting that Slash is getting a star on the very street Axl Rose will one day be sleeping on," he joked. "This star is going to be stepped on more than the coke we did in the 80s."

After the tribute Slash gave a private performance to friends and family at the Hard Rock. The 46-year-old guitarist, real name Saul Hudson, was joined for the ceremony by his wife Perla Ferrar and their two sons, London and Cash.