Charlie Sheen Says His 'Goddesses' Were Just An Experiment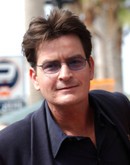 Charlie Sheen insists his decision to recruit two girlfriends to be his 'goddesses' earlier this year was simply a psychological "experiment."

The former Two And A Half Men star hit headlines earlier this year when he announced he was living with two women, porn star Rachel Oberlin, aka Bree Olson, and nanny Natalie Kenly, who he called his "goddesses."

Oberlin left him in April and Kenly followed suit shortly after, leaving Sheen a free man again.

And now, opening up about his recent love affairs, the star admits the decision to date the women simultaneously was purely born out of his desire to do something different.

During an appearance on The Wendy Williams Show on Monday, he said, "It kind of ran it's course. And it was really an experiment, just seeing if you could keep two women together, peacefully under the same roof. It's really hard, unless they're lesbians, you know, and even then (it would be hard)."