Charlie Sheen Says 'Anger Management' Is 'Like 100 Warm Hugs'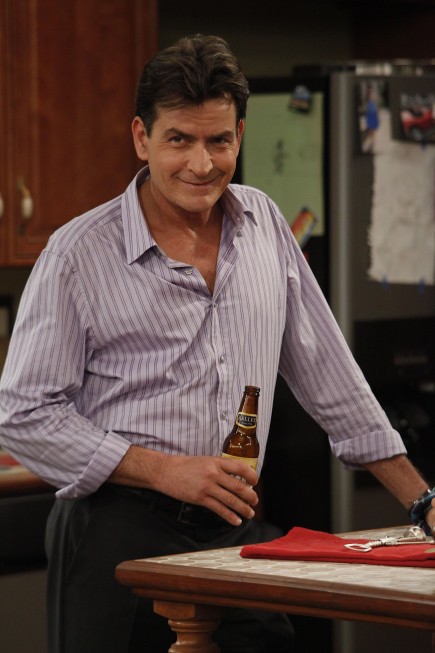 The long awaited return of Charlie Sheen to television arrives this week when Anger Management premieres on FX. Last year, Sheen's public meltdown and feud with Two and a Half Men creator Chuck Lorre sparked a year-long spectacle of porn star goddesses and online ranting. In January, a calm and gracious Sheen attended a Television Critics Association party. Sheen said working with FX and Anger Management creator Bruce Helford was a much more positive environment for him than Men.
"It's just every time that I see [Helford] it's like 100 warm hugs because to have my input welcomed is an alien concept for me," Sheen said. "He said something really honest, he said, 'I'm never going to make you say something that you don't want to say' and I said, 'I'm never going to not say something that's written so at least we hear it and then we'll make a decision from there.' So we both showed up and we're in sync."
Sheen is back in professional mode and promises to be focused on work. FX is a somewhat rebellious network though, so it's a good fit for Sheen. "I'm a big Sons of Anarchy fan," Sheen said. "I was a nip/tuck fan. I just think they take it very seriously."
Anger Management is a comedy but it has themes of redemption, something some critics feel Sheen has yet to earn. "I'm an ex ball player who had a short career because of an injury and a major anger issue.  So he has a shortened career like I said and he had anger issues and so there's themes of atonement, about a guy that wants to go back and give something back that is good, set the record, fix it."
After his departure from Two and a Half Men, Sheen tried to go solo. He took his one man comedy act on the road in the Violent Torpedo of Truth comedy tour. The tour bombed, and Sheen admits his mistakes.
"It was a radical example of stick to what you know. Everything's a lot more mellow and focused and much more rooted in reality. I'm just trying to pick my spots wisely and think a little longer before I speak."
Those are Sheen's only regrets though. He's done talking about winning and tiger blood, but he wouldn't take much back. "I would have been a little less vocal about the people I worked with in the executive branch [of CBS.] That's about it though."
Anger Management premieres Thursday, June 28 on FX.