Charlie Sheen Leads A Long List Of Celebs Taking The Ice Bucket Challenge For ALS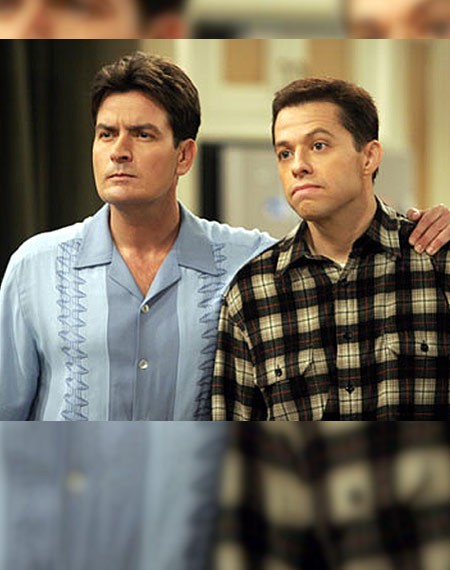 If you haven't yet heard about the "ice bucket challenge" going on to benefit ALS, then chances are you've been living under a rock for the last two weeks.

The social media craze, which actually began months ago (more on that later), has been sweeping the nation all in the name of raising money and awareness about Amyotrophic Lateral Sclerosis (ALS), better known as Lou Gehrig's Disease.

The challenge is simple: someone "nominates" you and two others to take the challenge next and then dumps about a five-gallon bucked of ice water over their own head. Those nominated can either accept the challenge or donate $100 to the cause if they can't handle a cold shower (most people are accepting the challenge and making some sort of donation).

The campaign has gathered a ton of steam amongst the celebrity crowd because -- well, who can resist a little free (and fun) publicity (although we have yet to see selfie-queen Kim Kardashian on the rocks)?

Celebs have been going wild raising awareness, from the likes of late night host Jimmy Fallon and his house band The Roots receiving a challenge from pal Justin Timberlake and doing it together, to Billionaire Microsoft founder Bill Gates.

Perhaps the coolest way to take the challenge would be doing it like actor Charlie Sheen, who shared a video via TMZ, in which he took the challenge by dumping not ice water, but $10,000 cash over his head, saying instead of the ice bath or the hundred bucks, he'll be donating the whole amount to the ALS Association. He then called out former "Two and A Half Men" co-star Jon Cryer, the show's producer -- with whom he famously feuded -- Chuck Lorre, and new Men star Ashton Kutcher (the latter of whom already took the challenge, however Sheen's challenge was to donate the same amount he did.


The ice bucket challenge isn't something new though. The challenges started months ago within the golf community, according to the Wall Street Journal.

Pro golfers would dump ice water over their head and challenge each other in a way to raise donations for charity.

Motocross star Jeremy McGrath shared a video on Instagram in mid-June, dousing himself and then challenging athletes Rickie Fowler and Jimmie Johnson, along with pal Rob Van Winkle (aka Vanilla Ice). McGrath upped the ante, saying if you don't dump the water, then you have to donate 100 bucks to the charity.

The meme slowly gathered steam, and then pro golfer Greg Norman issued the challenge to "Today" host Matt Lauer, who accepted and took the challenge on the air.

One thing led to another, and golfer Chris Kennedy doused himself and challenged a cousin whose husband has been fighting ALS for over a decade, after which it landed on the Facebook page of Pat Quinn from Yonkers, New York.

Quinn has been suffering from the disease since he was diagnosed in 2013, and his sharing it brought it to fellow sufferer Pete Frates of Boston, whose immense social network, thanks to being a baseball star at Boston College, got the ball really rolling.

"It's caught on like wildfire," Quinn said in an interview with Westchester, NY, NBC affiliate KXAN. "You have a shot at changing the world, in a way, and there's no reason to stop having fun... not only have fun, but you're creating awareness for a disease that has something special that's happening.

"God-willing, a cure could come."
See more celebs doing the ALS Ice Bucket Challenge and see who they nominate below
Quinn is also thrilled that the ice bucket challenge has been working when it comes to raising awareness of the disease.

"It's pretty funny when you see celebrities and superstar athletes dumping an ice bucket for ALS," Quinn said. "It just means we made it, in a way."

For those skeptical of whether or not the meme is working -- you bet it is.

The ALS Association has raised over $13.3 million in just over the last two weeks, according to Fox affiliate KPLR in St. Louis, Missouri, up from just $1.4 million in the same time frame last year.

ALS is a neurodegenerative disorder that kills the neurons in the brain and spinal cord. As the disease progresses, loss of use of limbs and the ability to speak, eat and breathe, ultimately leading to life support measures and ultimately death.

There is currently no cure for ALS and it affects around 30,000 people in the US. The average time it takes from onset to death is less than four years, and few live longer than a decade.

For more check out ALSA.org.

Microsoft founder Bill Gates went all out and built his own contraption to dump the water after being nominated by Facebook's Mark Zuckerberg.
Robert Downey Jr.:
Jennifer Lopez:
Gisele Bundchen:
Chris Brown:
Karrueche Tran:
Pro surfer Anastasia Ashley:
"Girls" star Allison Williams:
Model Cara Delevingne (adult language):
Reality star Kylie Jenner
Singer Selena Gomez (her second video is her nominations):
Ashton Kutcher:
Conan O'Brien:
Jimmy Fallon, co-host Steve Higgins, guest Rob Riggle, Horatio Sanz and The Roots:
"Guardians of the Galaxy" star Dave Batista:
Eva Longoria:
George Takei, who went epic sci-fi with his challenge:
Jack Black:
And Montreal Canadiens hockey star PK Subban, who took the challenge in his hometown of Toronto and one-upped everyone by having a dumptruck full of water dumped on him. We have a winner!