Charlie Sheen Kisses Jimmy Kimmel, Gives Away Tiger Blood T-Shirts (Video)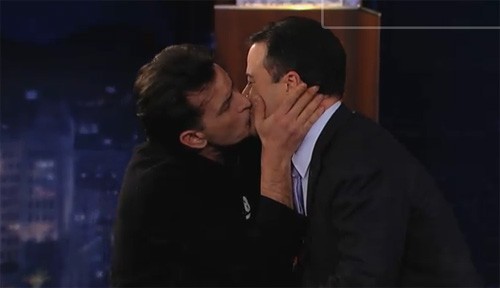 Charlie Sheen made a surprise appearance on Jimmy Kimmel Live last night, interrupting an interview with Mark Cuban. Sheen then proceeded to make out with Jimmy, sign a vinyl record of that night's musical guest, and throw out Tiger Blood t-shirts to the audience.
Jimmy also offered the services of his band for the talk show/tour Charlie is set to begin. The tour has been sold out at every stop, although the former Two and a Half Men star plans on adding more dates.
"I can't stay," he said, making the crowd respond with "aww." Sheen then demanded, "Silence! I have a show to write, damn it!"
"Your lips are very moist," Charlie told Jimmy later.