Charlie Sheen Goes Off On 'Duck Dynasty' Star Phil Robertson Over Gay Comments In GQ Magazine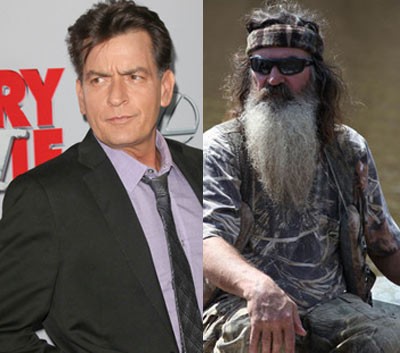 Charlie Sheen was all fired up over the comments made in GQ magazine by Duck Dynasty star Phil Robertson.

The A&E reality star made some off-color comments about gays in the magazing, prompting a huge controversy that ultimately ended with Robertson's indefinite suspension from the show and the future of it hanging in the balance.

Sheen got wind of the news and took to his Twitter page to blast the "Mallard brained" Robertson and demand he apologize to the gay community -- or else.

The "Anger Management" star actually posted his diatribe on Twitlonger, which lets users go beyond the 140 character limit of Twitter.

"You have offended and hurt so many dear friends of mine, who DO NOT have the voice or the outreach that I do. well news flash shower-dodger, I will speak loudly and clearly for ALL of them," he added.

"Just when your desperately sub evolved ass thought the pressure was off, you are now in the crosshairs of a MaSheen style media beat down..." the actor Warned.

"Shame on you. You're the only surviving brain donor I've ever known."