Charlie Sheen 'Goddess' Bree Olson Gets Serious About Acting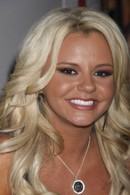 Charlie Sheen's ex-girlfriend Bree Olson is giving up romance and adult movies for a year in a bid to concentrate on becoming a mainstream Hollywood star.

The former adult actress insists her all-nude spread in the new issue of Playboy magazine will be the last time she bares all for a men's magazine and on camera for the time being as she focuses on acting classes and auditions in Los Angeles.

The pin-up, real name Rachel Oberlin, split from Sheen earlier this year but is still in constant contact with the actor and hopes to follow him into the movies and on TV.

She tells Access Hollywood Live, "I got an apartment in L.A. and I'm just gonna dedicate 100 per cent... I'm gonna go to auditions, I have acting classes lined up, agents lined up. I'm gonna give it a year and just work on it every single day.

"I am single... I'm gonna stop focusing... on 'husband and kids, husband and kids.'"