Charlie Sheen Blasts Farrah Abraham Over Leaked Text Messages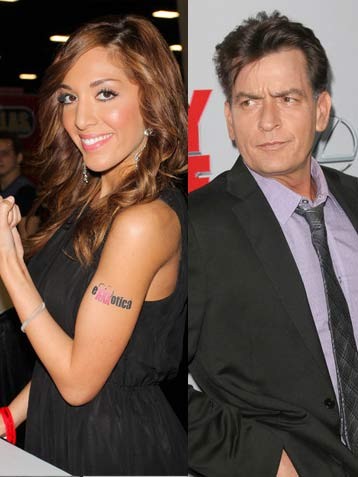 Just days after a series of text messages between former Teen Mom (and current adult film) star Farrah Abraham and Anger Management star Charlie Sheen were leaked to TMZ by Abraham, Sheen has come out with guns firing.

Abraham contacted the star in May, hoping to land a guest spot on his show, and asked if he wanted to get together sometime for either a playdate with their kids or perhaps meet up "just for coffee."

Sheen replied that Abraham sounded "fabulous," and "coffee is for amateurs and grandma," but he'd "love to get together!!"

A week later Farrah said she was in town and wanted to hook up at a birthday party for some drinks, however, she warned him that there would be "pornstar ppl there," so if he was uncomfortable -- as if Charlie Sheen would be uncomfortable around adult film stars -- they could meet up and do something else.

The couple never met up, but Abraham share screenshots of their conversation with TMZ.com, and now Sheen is furious, to say the least.

In a letter to Abraham obtained by TMZ, Sheen tells Abraham, "I truly do not recall giving you permission to globally reveal any communication between us. congrats on surviving your lobotomy and an even bigger congratz on the recent attempt at porn.

"[Y]our daughter must be so proud."

Calling her a "desperate guzzler of stagnant douche agua," Sheen also asks her to lose his number -- and herself with it.

"[t]he world will collectively sigh as the pungent memory of you vanishes into the pedestrian troposphere of lame-suck and zero-life," he adds, "oh and I'm sure they'll wave (sic) the cover charge when they see your tranny-boobs and five o'clock shadow.

So much for Farrah's cameo on his show.