Charleton Heston & Sophia Loren Classic 'El Cid' Rides Onto 2-Disc DVD Jan. 29

A grand-scale, sweeping historical epic featuring shining stars, stunning on-location photography and a cast of thousands, a Limited Collector's Edition of
El Cid
rides onto two-disc DVD January 29, 2008 from Genius Products and The Weinstein Company.
With digitally remastered picture and sound and an introduction by director
Martin Scorsese
, this beloved film is proudly featured as the first title in
The Miriam Collection
, a premiere label named after Bob and Harvey Weinstein's mother that will be home to the companies revered classic films, as well as foreign films and some modern favorites.
The richly romanticized tale of a real-life Castilian knight and legendary Spanish hero,
El Cid
stars Oscar®-winners
Charlton Heston
(Best Actor,
Ben-Hur
, 1960) and
Sophia Loren
(Best Actress,
La Ciociara
, 1960) in a lush realization of Middle Ages chivalry that earned director Anthony Mann (
The Fall Of The Roman Empire
) a Golden Globe® (Best Director, 1962). Boasting one of cinema's most memorable final scenes along with such a stellar cast and magnificent direction,
El Cid
also earned three Oscar nominations, included Best Art Direction (Color), Best Music for Miklos Rozsa's (
Ben-Hur
) dramatic score and Best Song. This two-disc DVD set includes exclusive special features including multiple featurettes, reproductions of the original 1961 souvenir program and original 1961
El Cid
comic book and much more.
An historical epic adventure about the life of heroic Spanish knight, Rodrigo Diaz de Vivar ("El Cid" to his followers), who, without compromising his strict sense of honor, succeeds in driving the Moors from Spain and becomes a legend.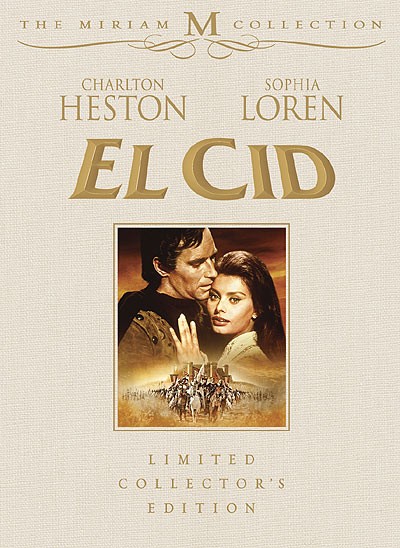 Special Features:
-Reproduction of Original 1961 Souvenir Program (Collector's Edition Only)
-Reproduction of Original 1961
El Cid
Comic Book (Collector's Edition Only)
-Six Color Production Stills (Collector's Edition Only)
-Written Introduction by Director Martin Scorsese
-Feature Commentary With Bill Bronston, son of producer Sam Bronston, and historian/author Neal M. Rosendorf, Ph.D., assistant professor of US International History at Long Island University
-1961 Promotional Radio Interviews with Charlton Heston and Sophia Loren
-Introduction Interview with Charlton Heston
-Samuel Bronston: The Epic Journey of a Dreamer
-Behind The Camera: Anthony Mann and
El Cid
-Hollywood Conquers Spain: The Making of An Epic
-Maestro of the Movies: Miklos Rozsa and
El Cid
-The Importance of Film Preservation and Restoration: A Conversation With Gerry Byrne
-Trailer Gallery
-Filmographies
-Still Gallery
About Genius Products: Genius Products, Inc. (OTCBB:GNPI), along with The Weinstein Company Holdings LLC, together owns Genius Products, LLC, a leading independent home-entertainment distribution company that produces, licenses and distributes a valuable library of motion pictures, television programming, family, lifestyle and trend entertainment on DVD and other emerging platforms through its expansive network of retailers throughout the U.S. Genius handles the distribution, marketing and sales for such brands as Animal Planet, Asia Extreme(TM), Discovery Kids(TM), Dragon Dynasty(TM), Dimension Films(TM), Entertainment Rights group companies (Entertainment Rights, Classic Media and Big Idea), ESPN®, IFC®, RHI Entertainment(TM), Sesame Workshop®, TLC, The Weinstein Company® and WWE®. Genius Products, Inc. is the managing member of Genius Products, LLC, in which it holds a 30% equity interest.
About The Weinstein Company: The Weinstein Company was created by Bob and Harvey Weinstein, the brothers who founded Miramax Films Corp. in 1979. TWC is a multi-media company that officially launched on October 1, 2005. Dimension Films, the genre label that was founded in 1993 by Bob Weinstein, is also included under TWC banner. The Weinsteins are actively working on the production, development and acquisition of projects for TWC.