Charisma Carpenter On Tonight's 'The Lying Game' Finale And Her Versatile Career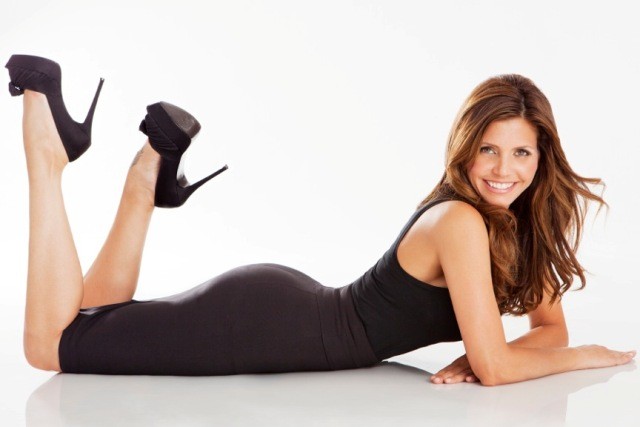 "There will be a couple of confrontations," said Charisma Carpenter, teasing tonight's The Lying Game spring finale in a recent conversation with BFTV. "Not everybody knows about the twins; almost everybody does. Obviously, there's a big rift now between Dan and Ethan because of him not being honest with Dan about what he knew. Somebody's either dead or alive."
The hit ABC Family series is based on the book series by Sara Shepard, but the actress revealed she hasn't relied on those to build her character, Rebecca Sewell, whose capacity for deviousness means that even her husband Alec Rybak (Adrian Pasdar, Political Animals) doesn't quite trust her. "I have not read the books, and I did not read the books going in," she explained. "When I found out about the job I was in Europe working, and I was hired in Europe. The day I was scheduled to come home, I ended up landing in Los Angeles and catching a plane to Austin, Texas. I just kind of relied on the people in charge to inform me of things." She's gotten along just fine, creating a character so good that she was bumped from recurring to regular status at the end of the first season. You can't - and shouldn't - take your eyes off Rebecca.
Yet that's only one thing the multifaceted actress is busy with. In addition to her juicy role on The Lying Game, Charisma is the host of the upcoming Investigation Discovery series, Surviving Evil, which focuses on true stories of women surviving the most horrible of circumstances. The first episode tells Charisma's own story of survival. The show will premiere later this year (specific date/time TBA).
Taking on the show is one of the ways Charisma is doing more than just playing great roles. She's also involved with a number of charities, including The Thirst Project, which advocates for clean drinking water in Africa, and the Ronan Thompson Foundation, which fights childhood cancers. Right now, she's working to raise funds for the Bethlehem Parents School in Kyotera, Uganda, so that the institution can provide proper bunk beds and mattresses for the kids it services. Charisma participated in a "Bands for Beds" fundraiser on behalf of the school in January, and anyone interested in contributing to the cause can still do so directly at this website.
Of course, Charisma's place in pop-culture history has already been firmly established with her role as Cordelia Chase on both Buffy the Vampire Slayer and Angel - a part that still holds significance for her as well as millions of fans worldwide. Reflecting on that career-changing experience, she said, "I know that Buffy and Angel weren't on the four major networks so their exposure wasn't that great, but given the quality of work that was being done and the people that were involved...when you're in your twenties, working on a show with that group of people, and Joss was just coming off his Oscar nomination for Toy Story, you know you're in really good hands.
"And then the moments never stopped coming," she continued. "I'm in my forties and going to conventions and meeting fans and it's still a big deal. It made my career what it is today, and I feel like a lot of people that were my age grew up with me and it means something to me. I'm proud of it, and I do like to talk about the shows that I'm doing now, but in every interview I do, no matter what, Cordelia always comes up."
She's got Lying Game fans on the edge of their seat every Tuesday, will forever be a small-screen name, and is working tirelessly in her personal life to make the world a better place. So with everything she's accomplished, what is Charisma the most proud of? "I think the proudest thing is that I'm a working mom," she said, "and that I'm able to maintain my life and my household and stay sane in a crazy industry." Sounds like Rebecca could learn a few things from the woman that plays her.
The spring finale of The Lying Game airs tonight at 9 PM ET/PT on ABC Family. You can also keep up with Charisma on Twitter (@allcharisma).
(c)2013 Brittany Frederick. Appears at Starpulse with permission. All rights reserved. No reproduction permitted. Visit my official website and follow me on Twitter at @tvbrittanyf.